Onze jongste zoon is helemaal gek op zijn 'babypop'. Hij kan niet meer zonder zijn pop en scharrelt er regelmatig mee door het huis. Hij heeft zelfs een mooie rieten reismandje en een rotan poppenwagentje, Milas is dus een echte poppenvader! We hebben een pop gekocht van het merk Paola Reina maar wat mij opvalt is dat de meeste poppenkleertjes nogal hysterisch roze zijn. Niet direct mijn smaak en daarom leek het mij super leuk om zelf poppenkleertjes te maken. Ik heb in een ver verleden naailessen gehad op school dus basisdingen zoals een gordijn, kussenhoes of een dekbed naaien is voor mij geen probleem. Met het naaien van kleertjes had ik nog geen ervaring maar met behulp van wat online tutorials is het gelukt, babypop heeft nu een fashionable garderobe!
Ik kocht online een aantal hippe tricot stofjes in allerlei leuke printjes. Voor poppenkleertjes heb je natuurlijk niet heel veel stof nodig en hierdoor is het prima betaalbaar. Ook kocht ik nog wat katoenen stoffen voor een dekentje voor in het rotan poppenwagentje. Stoffen zoals tricot zijn heel geschikt voor het maken van broekjes en truitjes gezien het wat elastisch is.
Wat heb je nodig voor het maken van poppenkleertjes?
stof (vooral tricot is geschikt voor kleding)
stofschaar
garen in de kleur van de stof
smalle elastiek (voor het maken van broekjes)
spelden
naaimachine (je zou het evt. ook met de hand kunnen doen)
patroonpapier of bakpapier
potlood
Hoe maak je een broekje?
Ik vond het maken van een broekje eenvoudiger dan een truitje. Daarom is het handig om te beginnen met een broekje, zo kun je alvast oefenen met iets makkelijks. Je kunt om te beginnen op sites kijken zoals Pinterest voor kant-en-klare patronen voor poppenkleertjes. Je moet natuurlijk wel even rekening houden met de grootte van de pop. Ook kun je op Etsy verschillende shops vinden met naaipatronen voor een klein bedrag. Ik gebruikte overigens geen patroon maar gebruikte een truitje en broekje die ik al had voor babypop. Ik heb het broekje en truitje op een vel bakpapier gelegd, deze vastgespeld en deze ruim overgetrokken met een potlood. Je moet namelijk rekening houden met wat extra stof voor het aan elkaar vastnaaien en het omzomen van bijvoorbeeld de broekspijpen en de bovenkant. Ga ongeveer uit van een halve tot één centimeter extra stof. Vervolgens heb ik de vorm uitgeknipt en deze vastgespeld aan de stof en ook dit knip je uit, uiteraard doe je dit twee keer. Je kunt ook twee stukken stof op elkaar leggen en het op die manier uitknippen, scheelt uiteindelijk werk en je hebt twee gelijke stukken.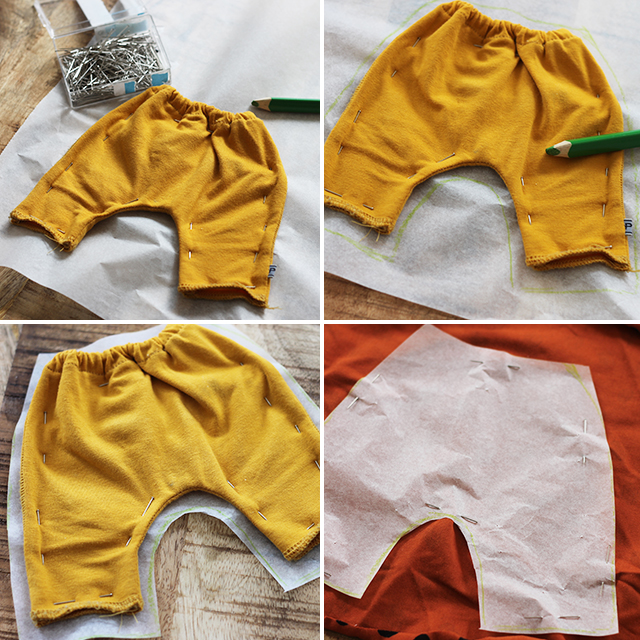 Het is handig om te beginnen met omzomen van de stof, dus je slaat de stof eerst ongeveer een halve centimeter om met behulp van spelden en je naait dit vervolgens met een fijne steek vast. Dus bij een broekje doe je eerst de broekspijpen en de bovenkant. In de bovenkant van het broekje heb ik elastiek gedaan door als ware een tunneltje te naaien. Je legt het elastiek op de bovenkant van het broekje en je slaat de stof eroverheen en je maakt dit vast met spelden. Het is belangrijk dat je het elastiek niet vastnaait aan de stof, alleen aan de twee buitenkanten zodat het niet meer kan schuiven. Wanneer het elastiek in het broekje zit kun je de twee stukken aan elkaar vastnaaien, dit doe je uiteraard binnenste buiten. Let er wel op dat je niet bijvoorbeeld de onderkant per ongeluk dichtnaait, ik spreek uit ervaring, goed opletten dus!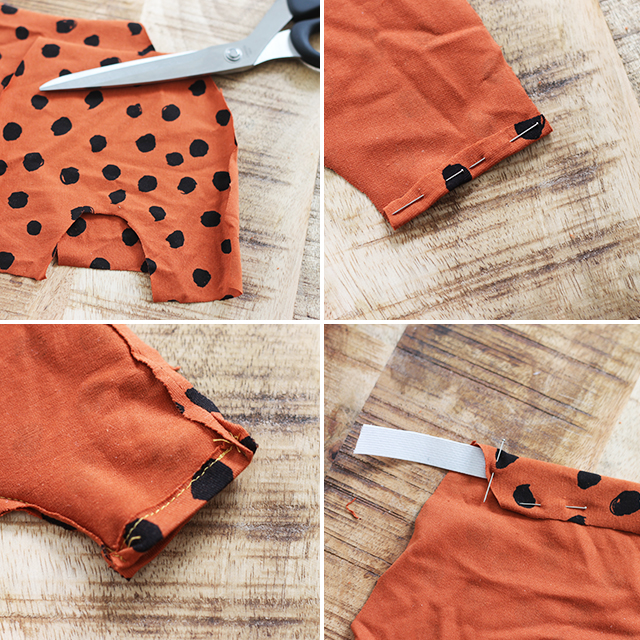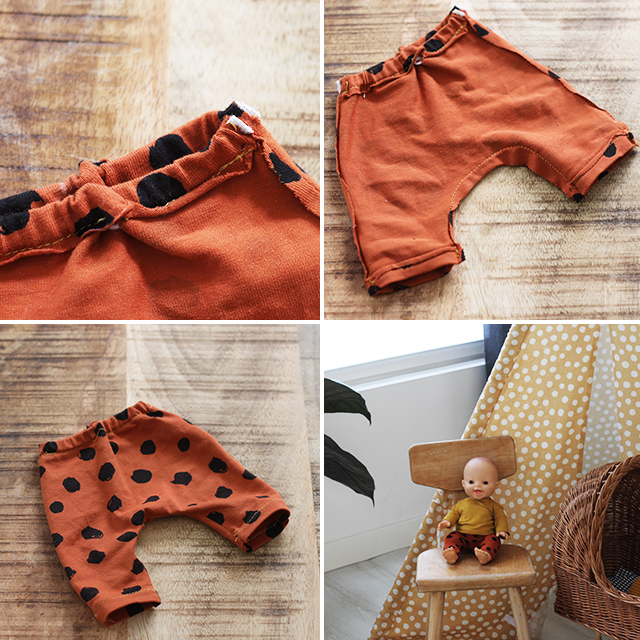 Nu kun je het broekje omdraaien en je poppenbroek is klaar! Ik maakte overigens ook een broekje in dezelfde stof voor Milas, zo kunnen babypop en Milas samen 'twinnen'. Ik gebruikte voor het broekje van Milas gewoon een broek uit zijn kast en ging exact hetzelfde te werk als bij het poppenbroekje.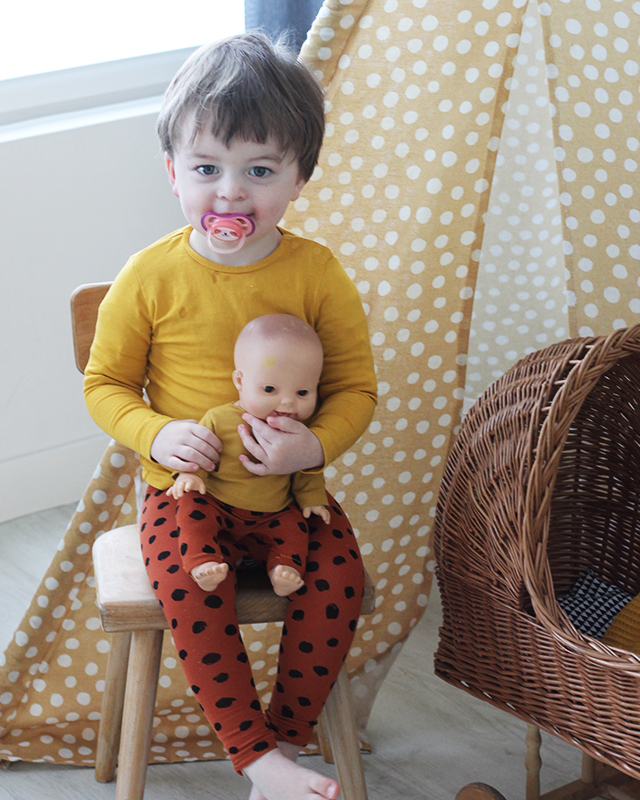 Mocht je het na mijn uitleg toch nog wat lastig vinden, dan is mijn advies, begin met het maken van bijvoorbeeld een dekentje of omslagdoek. Dit is super eenvoudig te maken en het enige wat je eigenlijk moet doen is de maat bepalen, de stof recht uitknippen, het met spelden aan elkaar vastmaken en recht naaien. Zo kun je op een makkelijke manier alvast wat handigheid krijgen met een naaimachine en het naaien van kleding.
Ik ben heel benieuwd of jij wel eens zelf iets naait en of jij het ook leuk vindt om zelf bijvoorbeeld kinderkleertjes of poppenkleertjes te maken?