In een eerder artikel schreef ik al over mijn favoriete kinderspeelgoed merken maar ik heb er sinds kort nog eentje bij, ik heb het over het Franse merk 'Moulin Roty'. Een prachtig merk met hele leuke en unieke speelgoed waar je spontaan hebberig van wordt. Ik vind het altijd erg leuk om op zoek te gaan naar uniek speelgoed en ik was op zoek naar een leuk cadeautje voor de vierde verjaardag van Emre en zo stuitte ik op dit fantastische merk. En natuurlijk moest ik dit even met jullie delen en hieronder zie je mijn favorieten maar pas op, want je wordt er hebberig van!
Het Franse merk Moulin Roty is toonaangevend en in het assortiment vind je speelgoed voor alle leeftijden, van exclusieve knuffels tot origineel speelgoed met een nostalgisch randje. Het speelgoed is mooi afgewerkt en staat garant voor uren speelplezier!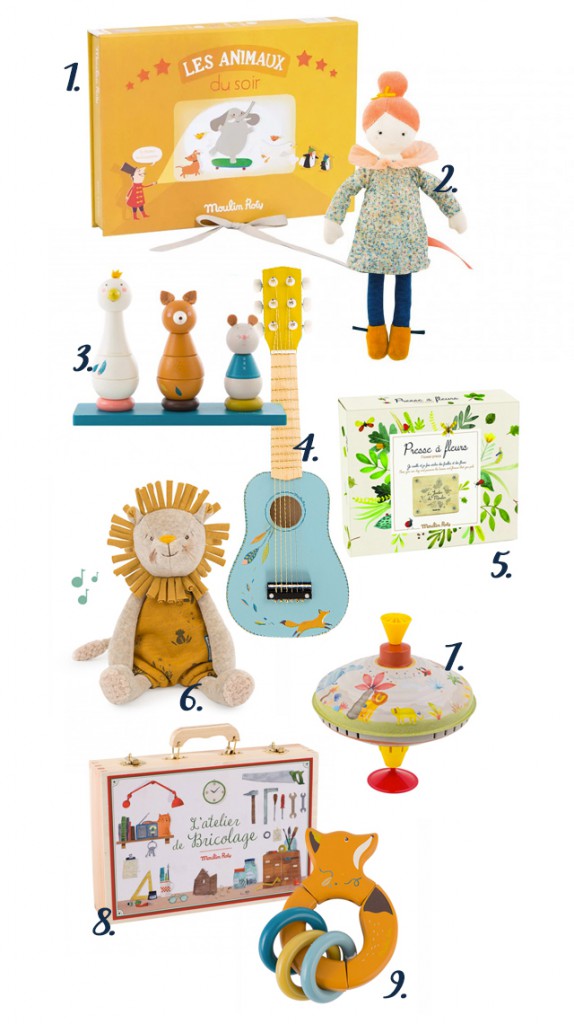 Dit is o.a. het cadeau wat wij gaan kopen voor Emre en ik begrijp dat je niet direct ziet wat het is. In deze doos zit een zaklamp met losse ronde plaatsjes die je in de zaklamp kunt doen. Door op de muur of plafond te schijnen met de zaklamp zie je verschillende plaatjes en hier kun jij of je kind een eigen verhaal bij verzinnen, hoe leuk is dat? €29,95
Een prachtige stoffen pop die je al kunt geven vanaf de geboorte. €19,90
Blokjes stapelen maar dan nét anders. Met deze leuke houten beestjes kan je kleintje allerlei combinaties maken en dat is ook direct heel goed voor de motoriek €29,75
Speciaal voor de kleine muzikant, een super mooie kleurrijke gitaar voor je kleintje om alvast zijn of haar muzikale talent te laten horen €37,90
Een heel leuk cadeautje wat mij betreft voor een kind die dol is op de natuur. Met deze leuke bloemenpers kunnen kinderen makkelijk bloemetjes laten drogen €15,90
Hoe mooi is deze leeuwenknuffel? En het leuke is dat hij ook nog muziekjes kan afspelen, daar wordt je kleintje vast wel vrolijk van! €37,95
Een ouderwetse tol voor de kindjes van nu, wanneer de tol draait maakt die een heel mooi geluid €17,95
Een koffer gevuld met mooie gereedschap, speciaal voor kinderen met twee rechterhanden! €47,90
Ook heel leuk voor de allerkleinsten, een grijpspeeltje in de vorm van een vos €11,95
Ik ben heel benieuwd of jij dit merk al kent en zo niet, wat is jouw eerste indruk? Het merk Moulin Roty kun je o.a. kopen bij Vila Hoera.