Veel mensen zullen ongetwijfeld rond hun 18e beginnen met autorijlessen, tegenwoordig kan dit trouwens al vanaf dat je 16,5 jaar bent. Toen ik die leeftijd had was ik vooral heel druk met studeren, vrienden, een bijbaantje en woonde ik op kamers in Groningen. Ik had helemaal geen behoefte aan een autorijbewijs en ik vond het ook altijd een beetje spannend. Wanneer ik mijzelf moest verplaatsen dan deed ik dit of met de fiets of ik reisde met het OV, ik redde mij prima zonder rijbewijs. Ook heb ik nooit mijn scooterrijbewijs gehaald, ik fietste altijd liever! Rond mijn 21e kreeg ik, zoals velen van jullie wel weten, een angststoornis. Op dat moment had ik helemaal geen behoefte aan autorijlessen en zag ik mijzelf eigenlijk nooit gaan autorijden.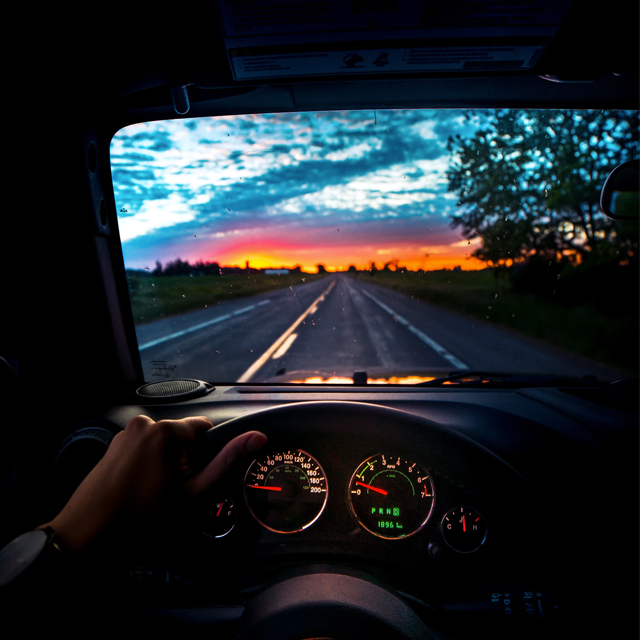 Maar ongeveer een jaar geleden veranderde dit, het begon te kriebelen. Een autorijbewijs hebben zorgt namelijk voor meer vrijheid en zelfstandigheid, iets waar ik veel behoefte aan heb omdat ik heel wat jaren erg afhankelijk ben geweest. Toen we ook nog gingen verhuizen naar een huis net buiten de stad, begon ik helemaal in te zien dat een rijbewijs ontzettend handig zou zijn. Onze kinderen worden natuurlijker groter en ze zullen ongetwijfeld op een sport willen, gaan spelen met vriendjes, beginnen met zwemlessen en dan is het toch wel handig als ik ze kan wegbrengen en ophalen met de auto.
Daarom besloot ik de stoute schoenen aan te trekken en een rijschool bij mij in de buurt te contacteren. Twee weken later had ik een proefles en ik kroop met trillende handen en een hoge hartslag achter het stuur. We reden naar een industrieterrein en daar ging ik wat rondjes rijden. Een beetje sturen, gas geven en schakelen, puur om te wennen aan het autorijden. Ik vond het mega spannend maar anderzijds ook wel erg leuk. Met een goed gevoel keerde ik terug van mijn allereerste les en ik plande meteen een nieuwe in. Daarnaast besloot ik twee keer per week te gaan lessen om de vaart er direct in te houden.
Inmiddels heb ik 20 rijlessen gehad en ik moet zeggen dat het steeds beter gaat. Het rijden zelf kan ik inmiddels wel goed en gaat steeds meer op de automatische piloot. Het enige waar ik nog wat last van heb zijn iedere keer die vervelende zenuwen, maar ook mijn perfectionisme en onzekerheid. Ik baal van mijzelf wanneer ik fouten maak tijdens het rijlessen, terwijl ik zelf ook wel weet dat het juist goed is om fouten te maken omdat je op die manier juist dingen leert. Maak ik namelijk een fout tijdens mijn rijles, dan zal ik zo'n zelfde fout niet snel opnieuw maken omdat het heel goed blijft hangen. Het enige waar ik nu dus voornamelijk aan moet werken tijdens het lessen is het vertrouwen in mijzelf krijgen.
Nu ik al een tijd aan het lessen ben vraag ik mijzelf wel af waarom ik dit toch niet wat eerder heb gedaan. Autorijlessen zijn namelijk heel erg leuk om te doen en vooral het zicht op een rijbewijs geeft mij een enorm goed en zelfstandig gevoel. Natuurlijk heb ik nog wat lessen te gaan maar ik kijk enorm uit naar de dag dat ik mijn rijexamen mag gaan doen en hopelijk het "roze papiertje" weet te bemachtigen!
Mocht je ook net als ik al wat ouder zijn en nog geen rijbewijs hebben en hierover twijfelen, dan zou ik willen zeggen dat het nooit te laat is. Trek ook net als ik de stoute schoenen aan en bel eens wat rijscholen bij je in de buurt, bijvoorbeeld Verkeersschool Wesseldijk. Deze verkeersschool heeft een heel groot opleidingsaanbod en hier kun je terecht voor een brommerrijbewijs maar natuurlijk ook voor je autorijbewijs. Ik zeg, gewoon doen!