Voor de meeste mensen zal komende zomervakantie er toch wat anders uitzien dan normaal gesproken. Ik vermoed dat veel mensen of niet gaan, of misschien vakantie gaan vieren in eigen land wat overigens heel erg leuk kan zijn! Wij gaan in ieder geval niet op vakantie deze zomer en wij blijven lekker thuis en gaan waarschijnlijk wat klusjes doen in en rondom het huis. Afgelopen februari, net voordat het corona virus uitbrak, zijn wij met ons gezin een weekje naar Safari Resort Beekse Bergen geweest. Dit is een absolute aanrader en ik zal je hieronder vertellen waarom (overigens was ons verblijf of dit artikel niet gesponsord).
In september 2019 zijn we verhuisd naar onze eerste koophuis en daarom hebben we onze zomervakantie geannuleerd. Een huis kopen én verhuizen is niet goedkoop en het leek ons verstandig om even niet op vakantie te gaan. Maar na een hele drukke en best wel stressvolle periode besloten we toch nog in februari een weekje weg te gaan. We kozen ervoor om lekker in eigen land te blijven en al snel had ik iets leuks op het oog, namelijk Safari Resort Beekse Bergen. In dit resort heb je verschillende soorten accommodaties en je wordt omringt door dieren zoals; giraffes, zebra's, neushoorns en zeeleeuwen. Je verblijft eigenlijk gewoon in de dierentuin en dat is natuurlijk voor gezinnen met jonge kinderen één groot avontuur!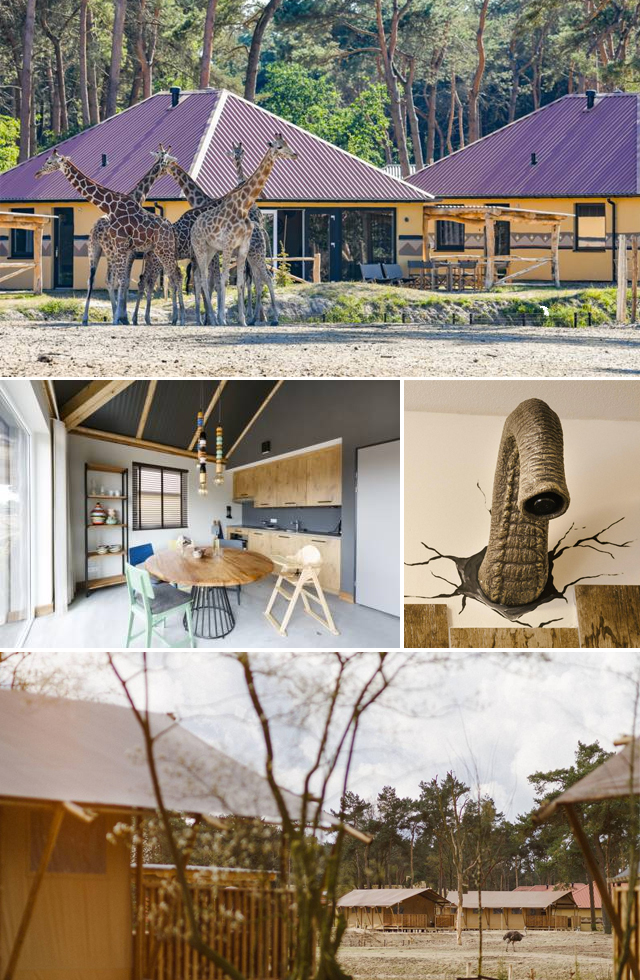 Er zijn op het resort verschillende soorten huisjes, zo heb je verschillende lodges qua grootte. Ook op het park vind je meerdere lodges speciaal voor kids, dit zijn huisjes die helemaal ingericht zijn op kinderen en bieden allerlei extra's zoals bijvoorbeeld aangepaste stopcontacten, stoere stapelbedden en een hele speciale olifanten douche. Wij keken uit op de boomhutten en ook hier kun je in verblijven, hoe leuk is dat? En wil je echt een safari gevoel, dan kun je ook gaan voor een verblijf in de Safari tent. Echter leek ons dit iets te koud voor de maand februari, maar het is wel ontzettend tof dat het kan! Achteraf ben ik ook wel heel erg blij met deze keuze want helaas was ik tijdens de eerste paar dagen van onze vakantie grieperig en een huisje was dan toch wel iets comfortabeler.
Wij kozen voor een lodge voor 6 personen (dit is ook de kleinste) en zo hadden onze kinderen beide een eigen slaapkamer. Het huisje is super mooi en luxe ingericht. De keuken is voorzien van mooie inbouwapparatuur en de badkamer had een bad én een sauna. Onze slaapkamer had zelfs nog een extra badkamer met douche. De lodges zijn helemaal in Afrikaanse stijl en wanneer wij uit onze raam keken zagen we de giraffes en de zebra's voorbij lopen, we waanden ons echt even helemaal in Afrika. Ook niet een onbelangrijk detail, de bedden lagen erg fijn en ik heb er goed geslapen ondanks dat ik ziek was.
Op het park is natuurlijk van alles te doen, vooral wanneer je jonge kinderen hebt. Er is een restaurant waar je heel lekker kunt eten en er is ook een kidsclub waar iedere dag activiteiten worden georganiseerd voor de allerkleinsten. Ook is er een binnenzwembad aanwezig op het park, het zwembad is wel klein maar daarom juist heel geschikt voor gezinnen met kleine kinderen. We vonden alleen het water wat koud voor de kleintjes, dat had best wat warmer gemogen. Wanneer je op het Safari Resort verblijft mag je ook gebruik maken van het zwembad op het vakantiepark Beekse Bergen. Dit zwembad is net iets groter en misschien wat meer geschikt voor gezinnen met iets oudere kinderen.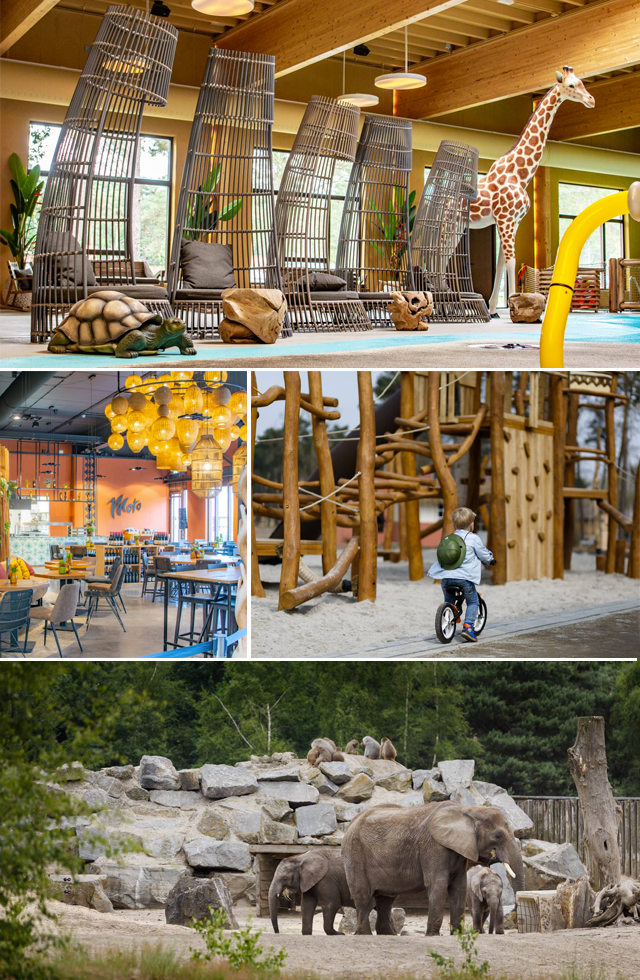 Naast de bovenstaande activiteiten mag je uiteraard ook onbeperkt de dierentuin bezoeken. Je kunt in Beekse Bergen op een autosafari, wat zeker een aanrader is. Wanneer je in het resort verblijft kun je via het park makkelijk via verschillende wandelpaden in de dierentuin komen, wat ik zelf heel fijn vond. Het dierentuin vond ik heel erg mooi, alles is heel ruim opgezet en de dieren hebben veel leefruimte.
Wij hebben heel erg genoten van onze vakantie in Safari Park Beekse Bergen en ik vind dit resort perfect voor gezinnen met kinderen en deze locatie leent zich ook heel goed voor familie of vrienden weekenden. Vooral ook omdat je op het park van alles kan doen en je geen moment hoeft te vervelen!