Boeken lezen doe ik graag, echter niet zo heel vaak. Ik vind het vaak toch een stuk verleidelijker om achter mijn laptop te kruipen en Youtube en/of Netflix te kijken. Toch hou ik enorm van lezen maar ik vind er vaak niet meer zo veel rust voor. Het is vaak een activiteit die ik doe in de vakantie, echter op vakantie gaan we dit jaar niet. Daarom heb ik mijzelf voorgenomen om meer te gaan lezen deze zomer en er dus vaker een boek bij te pakken. De onderstaande boeken staan op mijn 'to read' lijstje…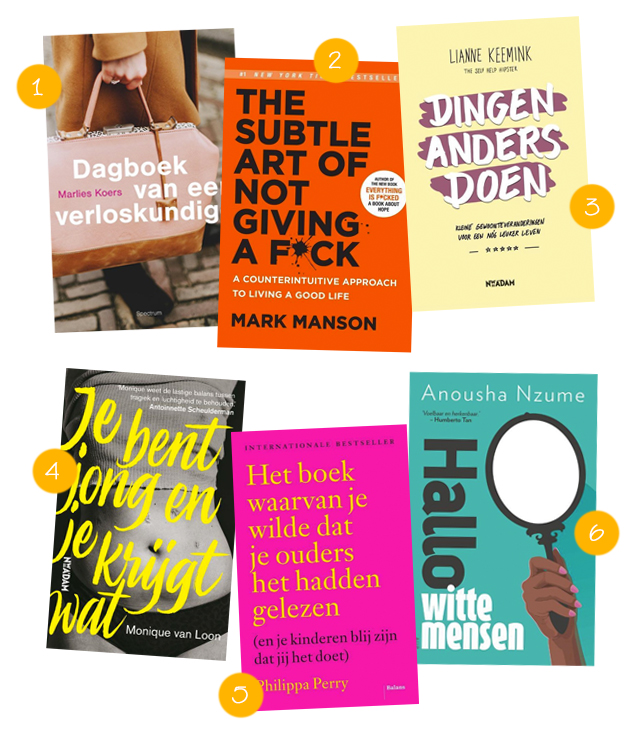 1. Dagboek van een verloskundige
Van grote hoogtes naar diepe dalen en van gemoedelijke spreekuren tot zenuwslopende bevallingen. En dat alles soms in één dag. Dit boek geeft een unieke en openhartige kijk achter de schermen van een van de mooiste, intiemste en zwaarste beroepen.
Nadat ik twee keer ben bevallen, vind ik verloskunde een heel mooi en interessant vak. Zoals jullie misschien wel weten heb ik de studie verpleegkunde gedaan, helaas heb ik dit nooit afgemaakt. Had ik dit wel afgemaakt dan was ik misschien zelfs wel verloskundige geworden. Doordat ik het vak zo bijzonder vind, ben ik enorm benieuwd naar dit boek en ik kan niet wachten om te beginnen met lezen!
2. The Subtle Art of Not Giving a F*ck
For decades, we've been told that positive thinking is the key to a happy, rich life. "F**k positivity," Mark Manson says. "Let's be honest, shit is f**ked and we have to live with it." In his wildly popular Internet blog, Manson doesn't sugarcoat or equivocate. He tells it like it is-a dose of raw, refreshing, honest truth that is sorely lacking today. The Subtle Art of Not Giving a F**k is his antidote to the coddling, let's-all-feel-good mindset that has infected American society and spoiled a generation, rewarding them with gold medals just for showing up.
Een boek die op mijn lijf geschreven is! Het boek kreeg ik al afgelopen december maar ligt nog steeds ongelezen in de kast. Het is ongetwijfeld een boek waar ik nog heel veel van kan leren.
3. Dingen anders doen
Jezelf goede gewoontes aanleren en slechte gewoontes afleren is volgens zelfhulpboeken een kwestie van een knop omzetten, gewoon even wilskracht tonen en zoveel mogelijk motiverende spreuken tot je nemen. De werkelijkheid is meestal weerbarstiger. In Dingen anders doen vertelt en onderzoekt Lianne hoe makkelijk of moeilijk het is om te stoppen met het scrollen langs social media of chocola inhaleren, om meer te sporten, geconcentreerder te werken en een opgeruimder huis te hebben. Is het echt een kwestie van mindset of komt er veel meer aan te pas? Hoe doen we dat nou echt, gewoontes veranderen? Het korte antwoord is als een Facebook relatiestatus: It's complicated. Het uitgebreide antwoord lees je in dit boek.
Ik ben ervan overtuigd dat je nooit te oud bent om nog dingen te leren en om aan jezelf te werken. Dit boek lijkt mij een fijne manier om inzichten te krijgen over bepaalde gewoontes die er zonder dat je het doorhebt erin geslopen zijn.
4. Je bent jong en je krijgt wat
Wat doe je als je op je achtentwintigste baarmoederhalskanker blijkt te hebben, terwijl je vol in het leven staat en juist flink carrière aan het maken bent? Het overkwam Monique van Loon. In Je bent jong en je krijgt wat beschrijft zij soms tussen neus en lippen door, soms expliciet, hoe het is om als jonge vrouw ziek te worden. Hopeloos verliefd te worden, terwijl sommige vriendschappen onverwacht niet tegen de situatie bestand blijken te zijn. Hoe de ene dokter je verdrietig en vol vragen achterlaat, terwijl de ander je steun en toeverlaat wordt. Hoe je je sexy kunt blijven voelen nadat je baarmoeder verwijderd is. Van Loon schrijft vol zelfspot en humor over een leven met en na baarmoederhalskanker.
Dit boek staat ook al een tijdje op mijn lijstje van boeken die ik graag wil lezen. Het lijkt mij een mooi, eerlijk, aangrijpend maar ook een inspirerend boek.
5. Het boek waarvan je wilde dat je ouders het hadden gelezen
Iedere ouder wil dat zijn kind gelukkig is, en dat het in een veilige omgeving opgroeit tot een gelukkige volwassene. Maar hoe doe je dat? In dit wijze, verstandige en verfrissende boek staat alles wat er in de opvoeding van een kind écht toe doet. Geen praktische tips over slapen, eten, goede manieren of huiswerk, maar helder advies over de essentie van het ouderschap.
Ook als ouder kun je hoogstwaarschijnlijk nog een hoop dingen leren. Natuurlijk groei je mee met je kinderen en doe je je best om het zo goed mogelijk te doen. En het belangrijkste wat ik voor mij kinderen wens is dat ze gelukkig, zichzelf en zelfverzekerd zijn. Hopelijk kan dit boek mij hier meer over leren…
6. Hallo witte mensen
Of we nu willen of niet, in Nederland leven we in een witte wereld. Eeuwenlang was 'wit' bepalend voor de maatschappelijke en culturele status quo. Maar sinds de hernieuwde Zwarte Piet-discussie lijkt 'wit' onder druk te staan als nooit tevoren.
Een bijzonder actueel boek waarvan ik vind dat ik het moet lezen, maar overigens ook graag wil lezen. Ik vind het interessant om meer te lezen over het onderwerp racisme en white privilege zodat ik dit onderwerp nog beter ga begrijpen en dit ook mee kan geven aan mijn kinderen.