Wie mij al wat langer volgt weet vast en zeker dat ik in een ver verleden een interieur opleiding heb gedaan. Voor deze opleiding moest ik ook een aantal keren stage lopen en ik deed dit onder anderen bij een winkel gespecialiseerd in raam, vloer en wandbekleding. Tijdens deze stage heb ik ontzettend veel geleerd en de kennis die ik heb opgedaan komt af en toe nog wel van pas. En hoe leuk is het dan om deze kennis met jullie te delen? Er is ontzettend veel verschillende raambekleding verkrijgbaar online, bijvoorbeeld op de site van topjaloezieen. Maar welke raambekleding kies je voor welke ruimte en waar je moet verder nog op letten? Vandaag zal ik jullie wat handige tips geven…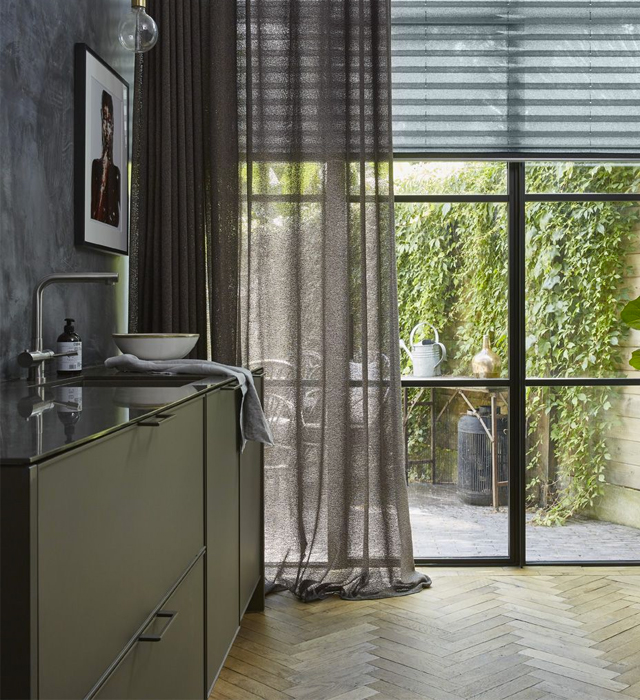 Voor welke ruimte
Allereerst is het belangrijk om te kijken voor welke ruimte je op zoek gaat naar raambekleding en wat de functie van deze ruimte is. Voor een slaapkamer is het bijvoorbeeld belangrijk om een raambekleding te zoeken die privacy biedt maar ook verduisterend is. In de woonkamer wil je waarschijnlijk ook graag privacy, wil je de zon misschien wat weghouden maar de ruimte moet wel mooi licht blijven. En ben je op zoek naar raambekleding voor je thuiskantoor, dan is het waarschijnlijk prettig om jaloezieën op te hangen zodat je wat kunt spelen met de lichtinval. Dus ben je op zoek naar raambekleding, zet dan eerst op papier voor welke ruimte het is en wat je belangrijk vindt qua eigenschappen?
Voor welke interieur stijl ga je
Uiteraard is het ook belangrijk dat de raambekleding past bij je interieurstijl. Omdat er zoveel verschillende raambekleding op de markt is kun je vast wel iets in je eigen stijl vinden. Creëer bijvoorbeeld veel warmte in je interieur door te kiezen voor natuurlijke materialen zoals houten jaloezieën of linnen gordijnen. Wil je een luxe rijke uitstraling, kies dan voor gordijnen gemaakt van fluweel. Heb je een wat strakker interieur dan is het mooi om ook voor moderne raambekleding te gaan, zoals bijvoorbeeld horizontale jaloezieën of een mooi rolgordijn. Pinterest is trouwens een hele fijne website om inspiratie op te doen voor mooie raambekleding. Stel een moodboard samen met alles wat je mooi vindt en neem deze mee in je zoektocht naar dé perfecte raambekleding.
Welke ramen hebben raambekleding nodig?
Ook is het nog even goed om te kijken voor welke ramen je de raambekleding wilt. Heb je bijvoorbeeld hele grote ramen dan loopt het al snel in de papieren wanneer je kiest voor houten jaloezieën. Kijk ook even naar de diepte van het kozijn en of het mogelijk is om de raambekleding te bevestigen, want soms is dit niet mogelijk of moeten er wat aanpassingen gedaan worden. Heb je meerdere ramen in één ruimte dan kan het ook mooi zijn om verschillende soorten raambekleding te kiezen, zorg dan wel dat de kleur hetzelfde is of dat de kleuren in hetzelfde palet voorkomen. Dit geeft een mooi speels effect en zo kun je ook per raam bekijken wat het mooiste en meest praktische is.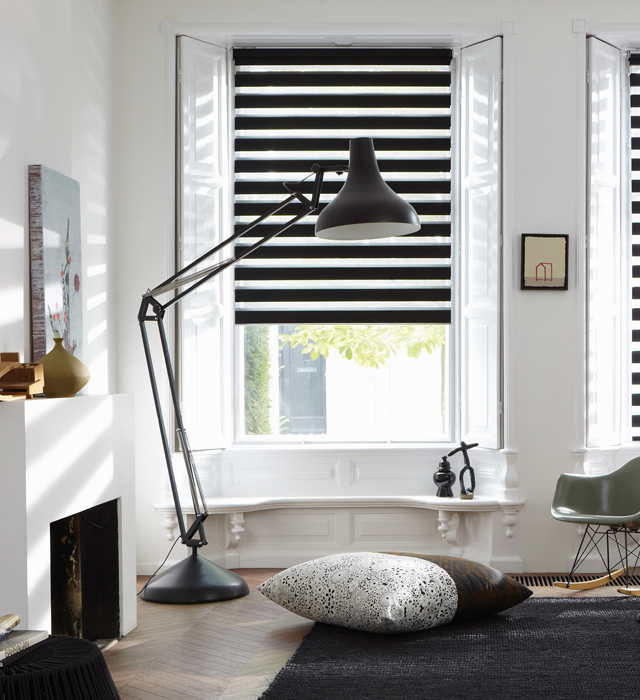 Ten slotte nog wat laatste tips:
Hou ook rekening met hoe licht een ruimte is wanneer je gaat kijken naar de kleur. Een lichte ruimte die groot is kan best donkergekleurde raambekleding gebruiken, terwijl je dit niet bij een kleine ruimte moet doen omdat dit de ruimte optisch kleiner maakt.
Wil je de raambekleding 'in de dag' of 'op de dag' bevestigen? Met de term 'in de dag' wordt bedoelt in het kozijn gemonteerd. en 'op de dag', daarmee bedoelen ze op het kozijn of evt. aan de muur. Dit is belangrijk om van te voren te bepalen zodat je hiermee rekening kunt houden.
Wanneer je op zoek gaat naar raambekleding voor een 'natte' ruimte, zoals bijvoorbeeld de badkamer dan kies je voor bekleding dat goed tegen vocht kan zodat je niet binnen een mum van tijd schimmel op je gordijnen hebt. Materialen die goed tegen vocht kunnen zijn o.a. PVC jaloezieën of polyester.
Hou ook rekening met de onderhoud die raambekleding nodig heeft. Een rolgordijn heeft weinig tot geen onderhoud, terwijl horizontale jaloezieën regelmatig afgestoft moeten worden en dit is best een klusje!
Ik ben benieuwd wat je van de bovenstaande tips vind en welke raambekleding jij mooi vindt?