Met Pinksteren is het precies 7 jaar geleden dat wij in ons huis zijn komen wonen. In al die jaren hebben we het interieur regelmatig vernieuwd, voornamelijk onze accessoires en wat meubelen zoals een nieuw kastje of bijzettafels. Onze verlichting boven de tafel is echter nog steeds onveranderd en ik ben niet meer zo'n fan van onze hanglamp. Het wordt dus tijd voor een nieuwe, echter wist ik nog niet helemaal precies wat ik wou?
Voor welke stijl lamp ga ik?
Om er achter te komen voor welke stijl ik wou gaan startte ik mijn zoektocht op Pinterest en zocht ik allerlei leuke voorbeelden van hanglampen. Als ik namelijk op zoek ben naar inspiratie, bijvoorbeeld voor mijn interieur, dan vind ik Pinterest een hele fijne site. Ik ging op zoek naar verschillende stijlen verlichting en al gauw viel mijn oog op glazen en industriële hanglampen. Beide stijlen passen erg goed bij wat ik wil voor onze interieur, toch gaat mijn voorkeur iets meer uit naar glas gezien we nu al een metalen lamp hebben hangen. Via Google kwam ik al snel uit op verschillende online shops waar je zulke lampen kunt bestellen, zoals bijvoorbeeld Kwantum en Lampen24.nl en van deze laatste had ik al vaker gehoord. Deze online shop heeft een groot assortiment aan verlichting, van binnen tot aan buitenverlichting in verschillende prijsklassen. Qua hanglampen hebben ze ontzettend veel keuze en trouwens ook genoeg met glas, hier kun je dus prima een glazen hanglamp kopen.
Hanglamp inspiratie verzamelen
Hieronder heb ik wat inspiratie verzameld van verschillende soorten hanglampen voor boven de eetkamertafel. Ik vind overigens dat mooie verlichting ontzettend veel kan toevoegen aan je interieur en zeker sfeer bepalend is. Daarom vind ik het ook belangrijk om echt goed uit te zoeken wat ik mooi vind, en welke stijl vind ik tof en wat zijn precies de mogelijkheden?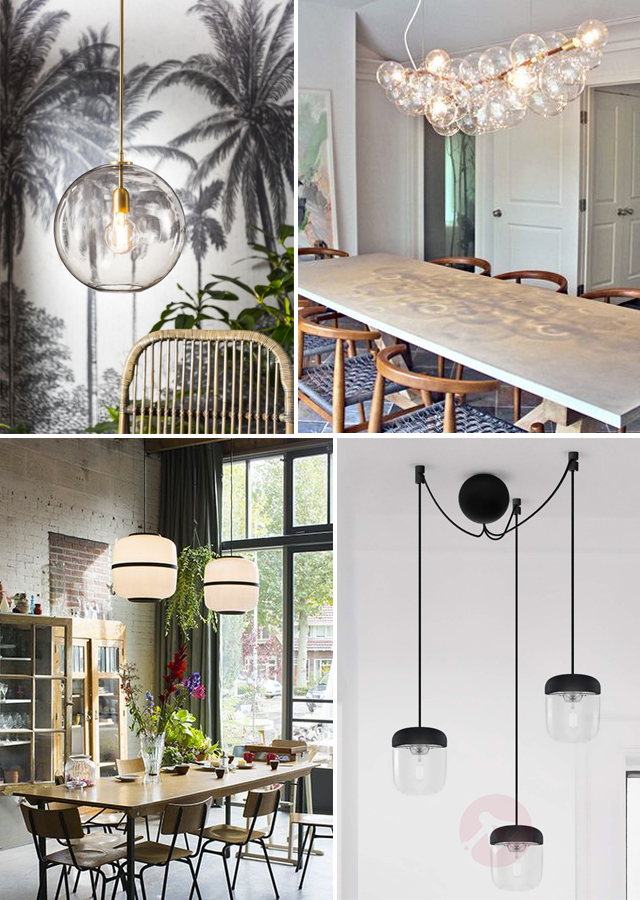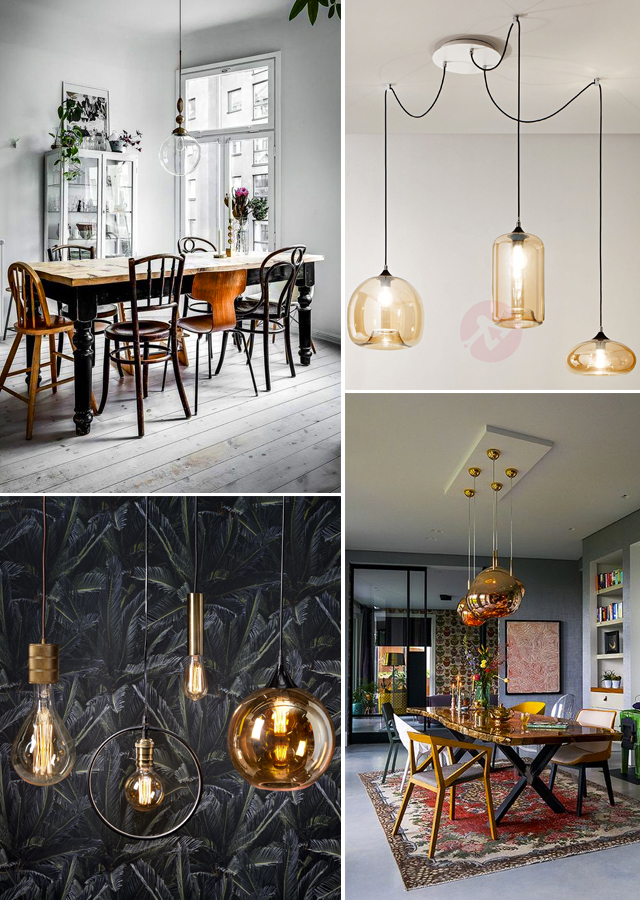 Ondertussen ben ik er wel over uit dat ik graag een glazen hanglamp wil kopen. Zoals jullie misschien wel weten zijn wij druk op zoek naar een ander huis en zodra we die hebben gevonden wil ik ons interieur wat veranderen. De stijl die mij heel erg aanspreekt is een mix van bohemien, vintage en industrieel. Daarom wil ik nu ook een lamp of lampen vinden die ook goed passen bij deze stijl. Zodra ik dé hanglamp heb gevonden die het gaat worden, zal ik dit uiteraard nog even delen op mijn blog en/of Instagram. Ik ben benieuwd welke lamp jij van de bovenstaande plaatjes de mooiste vindt, laat het vooral weten hieronder bij de reacties.
Bron afbeeldingen: Lampen24.nl / Kwantum / Karwei / Littledeer.ca / Stockinteriors.nl