Het duurt helemaal niet zo heel lang meer en dan begint officieel de winter. Het wordt langzaam maar zeker ook echt wat kouder en dit is dus ook hét ideale moment om eens kritisch te gaan kijken naar je beautyproducten. Ik gebruik namelijk in de winter hele andere beautyproducten dan in de zomermaanden. In de winter kies ik sneller voor meer voedende beautyproducten omdat ik snel last heb van een droge en jeukende huid naarmate de temperatuur naar beneden gaat. Ook ben ik meer van de warmere geuren en ook qua make up kies ik vaker voor warme tinten en ga ik sneller met een full face look de deur uit. Daarom leek het mij wel leuk om hieronder mijn favoriete beauty winter essentials te laten zien…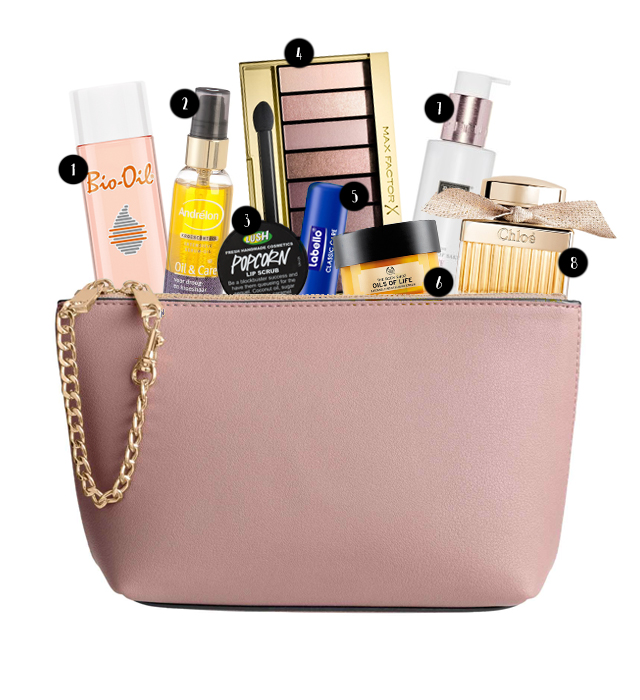 Sinds ik ben geopereerd in 2014 is Bio Oil één van mijn favoriete beauty producten. Ik vind de geur en het verzorgend effect ontzettend lekker. Bio Oil vind ik vooral in de winter erg prettig om te gebruiken, gezien mijn huid dan best wat extra voeding kan gebruiken. Het is ook hét perfecte product om je zwangere buik mee in te smeren.
Ook mijn haar wordt in de winter sneller droog, daarom vind ik een serum op basis van olie heel prettig om te gebruiken. Op dit moment gebruik ik de Oil & Care van Andrelon en dit werkt erg fijn. Na het douchen doe ik een klein pompje in vooral de punten van mijn haar, ik merk dat mijn haar er levendiger en gezonder uit gaat zien.
Ik heb heel snel last van droge lippen, vooral in de wintermaanden. Soms is het zo erg dat er kleine scheurtjes ontstaan. Mijn lippen scrubben is dus echt een must en ik doe dit het liefste met de Popcorn Scrub van Lush. Met deze scrub kan ik op een milde wijze de velletjes van mijn lippen halen en naderhand voelen ze lekker zacht aan.
Zoals ik ook al aangaf in de intro merk ik dat ik in de wintermaanden voor andere kleuren make-up kies. Ik kies sneller voor roodbruine tinten en dit palette van Max Factor in de kleur 'Rose Nudes' is perfect hiervoor en gebruik ik dus erg vaak.
Gezien ik snel last heb van droge lippen is een lippenbalsem een echte musthave voor mij. Er zijn veel verschillende verkrijgbaar maar ik gebruik het liefst gewoon de Labello Classic. Dit product zorgt ervoor dat mijn lippen een stuk zachter aanvoelen en het geeft verder ook geen kleur af.
Mijn huid, vooral op mijn gezicht, is in de winter kurkdroog. Ik scrub dus regelmatig maar voor mij is het ook heel belangrijk om minstens twee keer per dag een vette creme te smeren. Hier gebruik ik in de wintermaanden het liefst de Intensely Revitalizing Cream voor van The Body Shop. Deze creme is erg voedend en ruikt ook nog eens heerlijk.
Ook onder de douche kies ik voor een product op basis van olie. Warm water kan je huid droger maken en daarom vind ik het wel lekker om ook voor een doucheproduct te gaan die verzorgend en voedend is. Op dit moment gebruik ik hiervoor de Sakura Doucheolie van Rituals, een erg lekker en fijn product!
Ten slotte hoort er bij de winter ook een lekker winters geurtje. Dit geurtje van Chloé 'Absolu' past perfect bij de koude maanden en heeft een heerlijke warme en een wat zwaardere geur.
Ik ben ook erg benieuwd of jij je beautyproducten aanpast per seizoen en wat zijn jouw favorieten?