Het is eind april en het wordt eigenlijk wel eens een keer tijd om te gaan kijken naar de trends voor het nieuwe seizoen. Want welke fashion trends gaan we allemaal zien in de lente/zomer van 2016? Ik heb al veel verschillende trends gespot en ik verzamelde er een aantal voor jullie, hieronder zie je mijn favorieten voor dit nieuwe modeseizoen…
Heel erg brigitte bardot, deze off the shoulder trend. Je ziet ontzettend veel van deze tops en blouses in de winkels. Ik vind het een erg leuke trend en het is ook lekker zomers!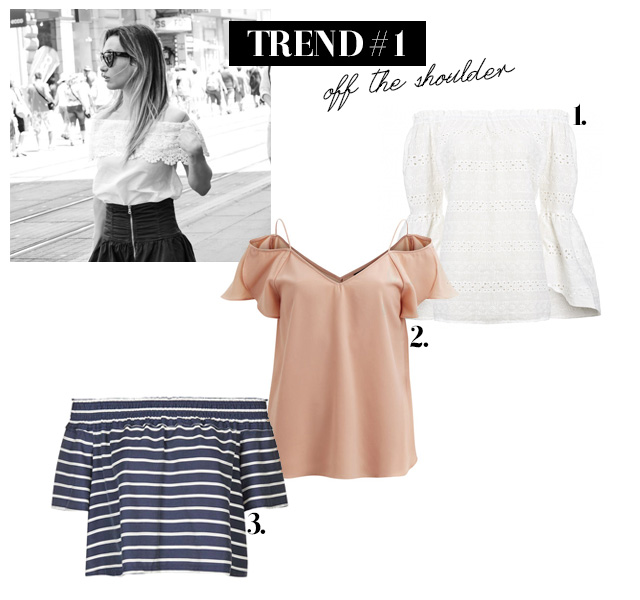 1) ModeMusthaves €34,95 2) Vila €26,95 3) Topshop €38,-
Kleding maar vooral accessoires zijn dit seizoen rijkelijk versierd met vrolijke pom poms. Vind je dit een leuke trend maar kun je het niet in de winkel vinden, dan kan je natuurlijk altijd nog zelf aan de slag om leuke pom poms te maken…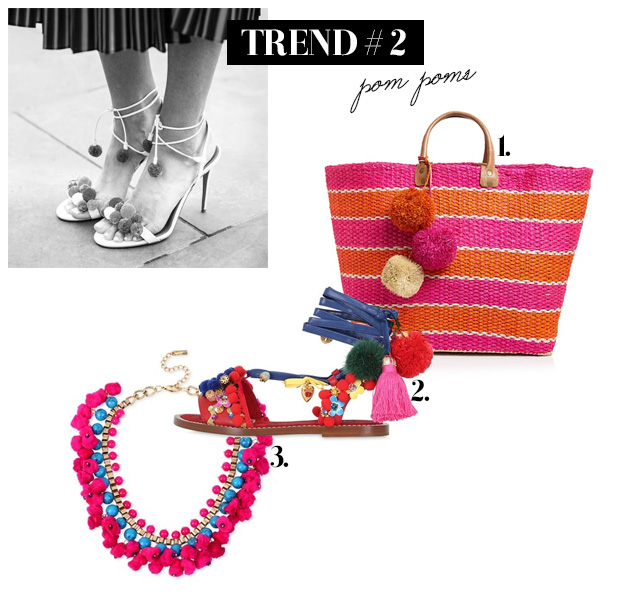 1) Bloomingdales €125,- 2) Dolce & Gabbana €1550,- 3) Macy's €26,-
Denim is ontzettend tijdloos en is eigenlijk elke seizoen wel een trend. Ik hou wel van denim, en wat je vooral veel ziet dit seizoen zijn spijkerjasjes en tuinbroeken/jurken met korte pijpen.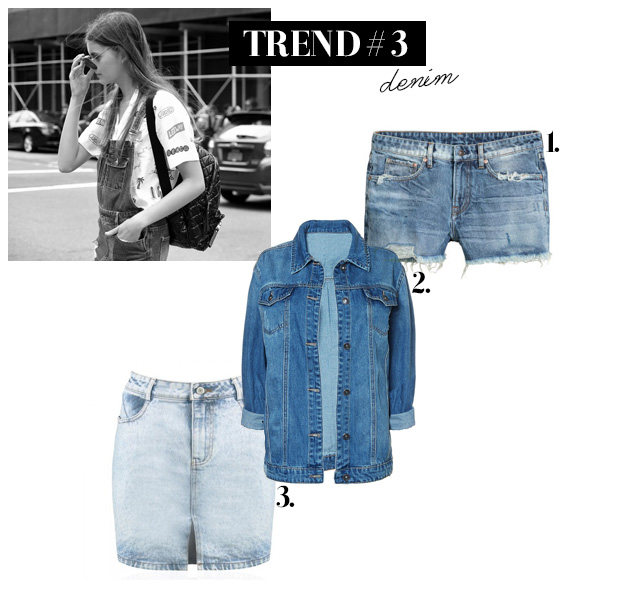 1) H&M €24,99 2) ModeMusthaves €49,95 3) My-Jewellery €39,95
De ankle tie ballerina trend komt rechtstreeks van de catwalk en werd veel gezien in de show van Isabel Marant. Ik kan mij voorstellen dat je geen 375 Euro over hebt voor een paar schoenen maar gelukkig zijn er ook genoeg look-a-likes te vinden!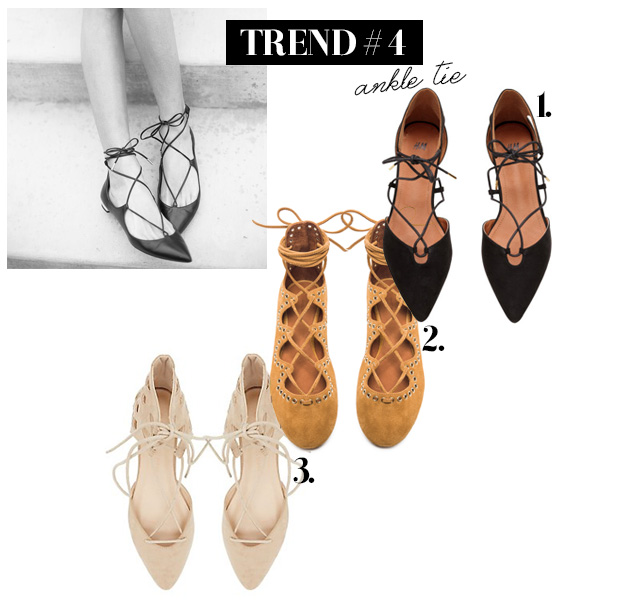 1) H&M €29,99 2) Isabel Marant €375,- 3) Charlotte Russe €15,-
Overal waar je kijkt zie je kledingstukken met daarop 'patches'. Ik vind dit een onwijs leuke trend, lekker vrolijk! Ook leuk trouwens voor een DIY project, ik zag op eBay veel losse patches die je op je kleding kunt strijken. Wie weet ga ik dit binnenkort wel doen en uiteraard zal ik dit dan delen op mijn blog…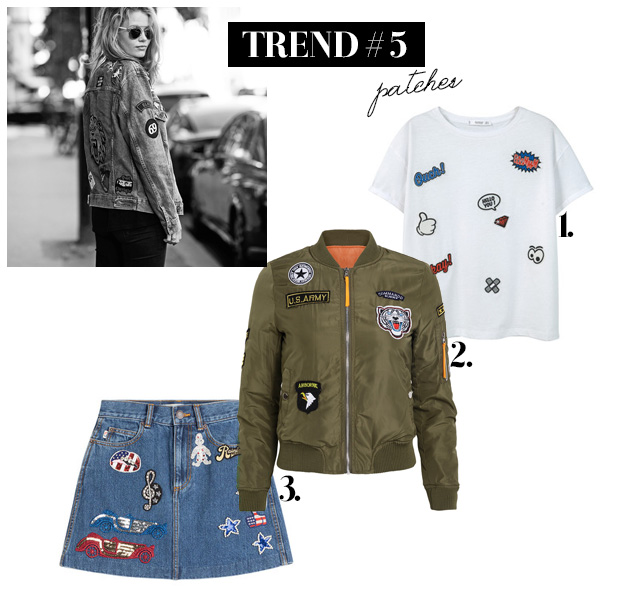 1) Mango €13,- 2) Loavies €54,95 3) Marc Jacobs €560,-
Ten slotte zie je ook veel 'lace-up' tops, shirtjes met aan de bovenkant een vetertje. Ook dit is één van mijn favo trends en deze tops zie je echt overal voorbij komen. Ik vind dit kledingstuk erg leuk voor boven een shortje of suède rokje.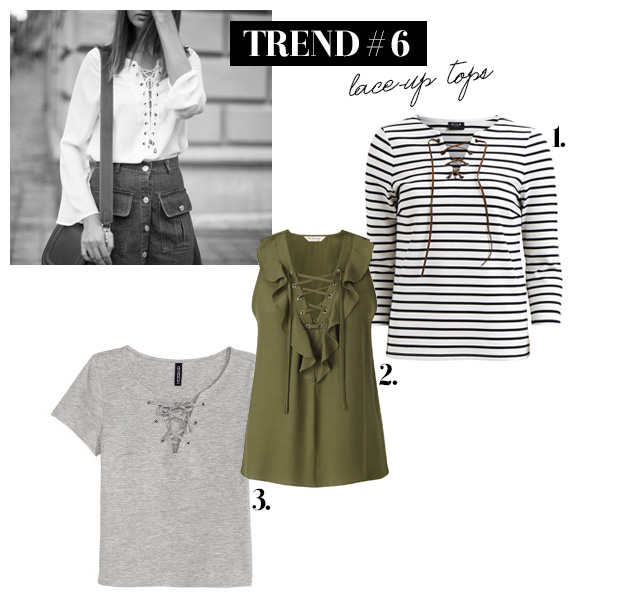 1) Vila €26,95 2) Miss Selfridge €32,- 3) H&M €9,99
Dit zijn mijn favoriete trends voor dit modeseizoen. Welke van de zes hierboven is jouw favoriet?