In Nederland kunnen wij misschien maar een aantal maanden per jaar buiten doorbrengen, de rest van de tijd is het vaak te koud of te nat. Eigenlijk is dat best wel zonde want buiten zijn is heel gezond voor je en ik krijg er vaak wel energie van. In heel veel andere landen, waar het klimaat wat gunstiger is, zie je dat mensen veelal buiten doorbrengen. Helaas is dat hier niet haalbaar maar je zou natuurlijk wel een overkapping in je tuin kunnen plaatsen zodat je een wintertuin kunt realiseren. Op die manier kun je vaker genieten van het buiten zijn.
Wij willen in de toekomst graag een overkapping in de tuin en mijn idee is dan ook om deze in te richten dat je er dus ook op koudere dagen gebruik van kunt maken. Dit kun je natuurlijk redelijk eenvoudig verwezenlijken door comfortabele meubels te plaatsen, veel dekens neer te leggen, mooie verlichting te plaatsen en goede terrasverwarming aan te schaffen. Wanneer je dit goed voor elkaar hebt kun je veel meer tijd spenderen buiten en ook op de wat koelere zomeravonden kun je lekker buiten doorbrengen. Hieronder heb ik mooie inspiratie opgezocht voor het realiseren van een wintertuin en geef ik je ten slotte ook nog een aantal tips…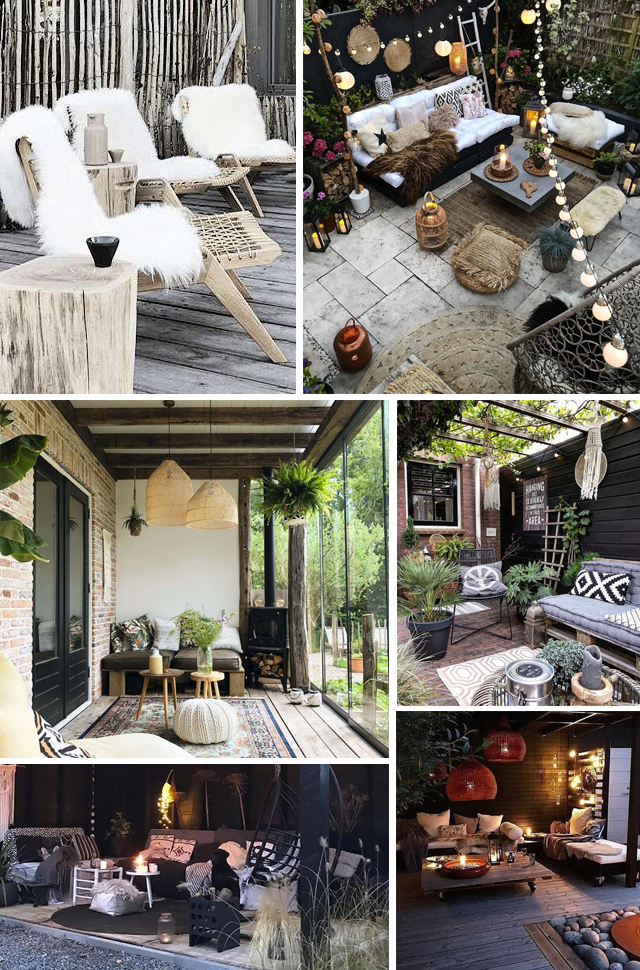 Mijn handige tips voor een wintertuin:
Zodra de herfst zijn intrede maakt, zie je dat de bladeren beginnen te verkleuren. Op zich kan dit heel mooi zijn maar het is natuurlijk ook wel leuk om planten in je tuin te hebben die groen blijven, vooral als je van plan bent een wintertuin te maken. Je kunt bijvoorbeeld kiezen voor planten die groen blijven, zoals Buxus, Hulst en Skimmia. Deze planten zijn wintervast en hier kun je dus het hele jaar plezier van hebben.
Kleed je tuin aan met gezellige accessoires, denk aan lantaarns met kaarsen erin. Dit staat niet alleen gezellig maar geeft ook warmte af zodra je ze aansteekt. Ook kan je een prachtige buitenhaard aanschaffen, dit geeft niet alleen veel warmte maar ook dit geeft veel knusheid. Of je kunt kiezen voor een mooie terrasverwarming, zodat je niet bibberend buiten hoeft te zitten want dat is niet comfortabel. Kies ook voor kussens en kleden van mooie rijke stoffen, zoals velvet, wol en nepbont. Zorg ook dat je genoeg plaids buiten hebt liggen zodat je hier lekker onder kunt zitten om het jezelf nog meer comfortabel te maken.
Ook een vloerkleed staat gezellig maar brengt ook letterlijk en figuurlijk warmte met zich mee. Je hebt genoeg soorten vloerkleden speciaal voor buiten en ze zijn tegenwoordig ook nog eens heel betaalbaar. Een vloerkleed geeft ook direct iets huiselijks aan je tuin.
Wanneer je 's avonds gebruik wilt maken van je wintertuin dan is het handig om ook te zorgen voor goede sfeervolle verlichting. Hang bijvoorbeeld een prikkabel speciaal voor buiten op of kies voor mooie wandlampen met sfeervolle peertjes erin. Ook is het leuk om 'kerstverlichting' in boompjes te hangen voor een leuk speels effect.
Zou jij het ook leuk vinden om een wintertuin te hebben en heb jij misschien nog tips voor het realiseren hiervan?