Mijn lievelingsseizoen staat letterlijk voor de deur, de herfst gaat bijna officieel beginnen en mijn geluk kan niet op. Ik heb de zomer weer overleefd en het komende half jaar is het meer mijn ding qua weertype. Na het bekijken van de weersvoorspelling voor komende tijd zie ik dat het herfstweer niet direct losbarst, maar het zal vast niet lang meer duren. Ik hou ontzettend van de herfst en ik vind het heerlijk wanneer het waait en regent. Niks is dan fijner om binnen te zitten met een comfy trui aan, genietend van een kop warme chocolademelk. Gelukkiger kun je mij echt niet maken!
Een nieuw seizoen gaat vaak ook samen met een nieuwe garderobe. Misschien draag je nog met veel plezier items van vorig jaar, maar de meerderheid van de mensen zullen ook vast en zeker wel even gaan winkelen voor wat nieuws. Ik doe dit wel altijd, uiteraard draag ik ook nog oudere items uit mijn kast maar ik vind het ook zeker leuk om wat nieuwe dingen aan te schaffen. Daarnaast veranderen de trends ook per seizoen en is het ook best leuk om hip erbij te lopen. Ik ging alvast op zoek naar wat leuke herfst items en deed alvast wat inspiratie op en hieronder shopte ik drie verschillende outfits voor het najaar…
Zoals jullie inmiddels wel weten hou ik heel erg van het boho stijltje. Ook voor de herfst vind je genoeg bohemian items in de winkels en de top die ik heb uitgekozen voor dit artikel vind ik helemaal geweldig. De blouse combineert super goed bij de tas en de cowboy boots (een grote trend dit seizoen!) en de oorbellen maken het helemaal af.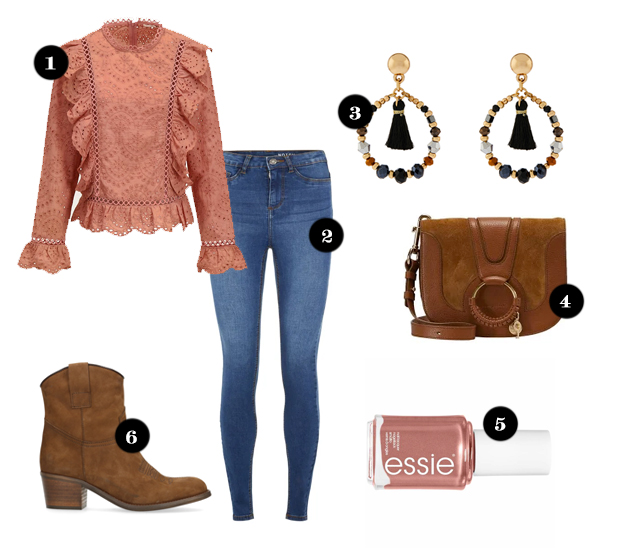 1. My Jewellery €34,95 / 2. Noisy May €24,95 / 3. Accessorize €10,- / 4. Chloé €375,- / 5. Essie €9,95 / 6. Sacha €139,99
De tweede outfit bestaat uit items in echte herfstkleuren en deze tinten gaan we trouwens veel zien dit seizoen. Net als in de zomer vind ik ook in de herfst rokjes helemaal leuk, vooral in combinatie met mooie panty's en stoere boots eronder. Deze leuke laarsjes met veters vond ik bij De Schoenenfabriek en staan perfect bij een jurkje of een rokje, ook leuk trouwens met een mooie jeans. Het rokje wat ik gebruikte voor deze outfit is gemaakt van corduroy en dit is een stof die we dit seizoen volop terug gaan zien. Corduroy heeft dus helemaal een comeback gemaakt!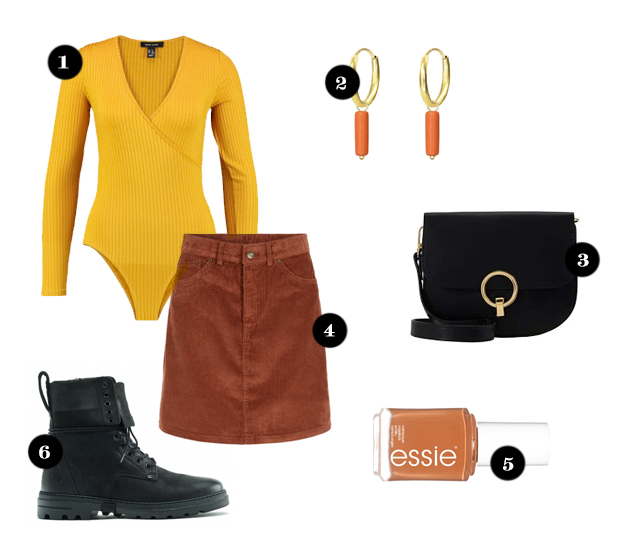 1. New Look €15,95 / 2. My Jewellery €17,95 / 3. Pieces €18,95 / 4. Vero Moda €24,95 / 5. Essie €9,95 / 6. De Schoenenfabriek €169,95
De panterprint mag ook dit seizoen nog gezien worden en stiekem vind ik dat wel heel erg leuk. Ik hou wel van printjes en deze skinny model broek gemaakt van een suède achtige stof combineert erg mooi met een grof gebreide trui en stoere boots. Met deze laatste outfit ben je ook helemaal klaar voor de herfst…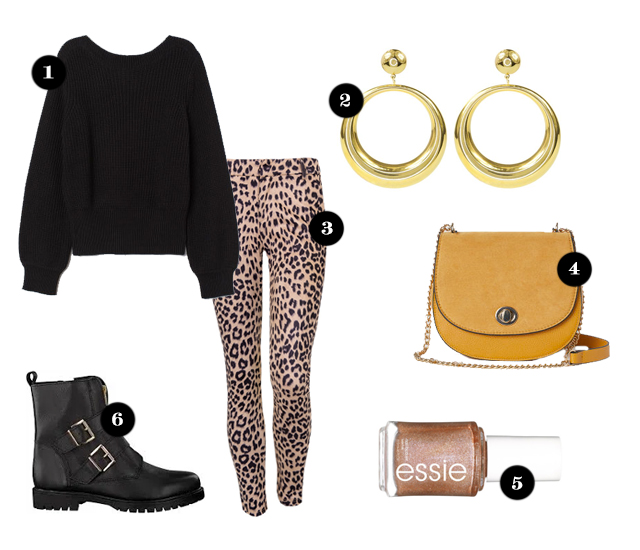 1. H&M €19,99 / 2. My Jewellery €19,95 / 3. The Musthaves €37,50 / 4. H&M €19,99 / 5. Essie €9,95 / 6. Topshop €74,99
Ik ben natuurlijk heel benieuwd welke van de bovenstaand outfits jij het leukste vindt? En shop jij ook graag nieuwe items zodra er een nieuw seizoen aan zit te komen?