De feestdagen staan weer voor de deur en de meeste mensen zullen dit ongetwijfeld vieren met veel gezelligheid, feestjes en lekker eten. Daarnaast is de maand december ook hét ultieme moment om eens lekker uit te pakken qua outfits, ga daarom voor nét wat meer glitter en glamour. Gelukkig spelen merken en winkels hier ook op in, gezien de winkels op dit moment vol hangen met feestelijke items. Maar waar je misschien niet zo heel snel aan denkt is om mooie lingerie onder je outfit aan te trekken. Want eerlijk is eerlijk, ik voel mijzelf vaak net wat mooier en zelfverzekerder met mooie lingerie onder mijn kleding aan. Daarnaast is het ook mooi om je lingerie onderdeel te maken van je outfit, bijvoorbeeld door een mooie body aan te trekken als top en dat is ook helemaal de trend van dit moment. Dus waarom zou je niet een complete outfit shoppen voor de feestdagen inclusief een mooi setje? Hieronder heb ik drie verschillende feestoutfits samengesteld met bijpassende lingerie…
Een zwart jurkje is altijd goed en zo ook voor de feestdagen. Ik ging voor een jurkje met een v-hals zodat je hieronder een mooie bh kunt dragen zodat je net een mooi randje kant ziet. Om de decolleté nog iets meer te benadrukken koos ik voor een wat langere gouden ketting. En uiteraard mogen mooie velvet hakken niet ontbreken!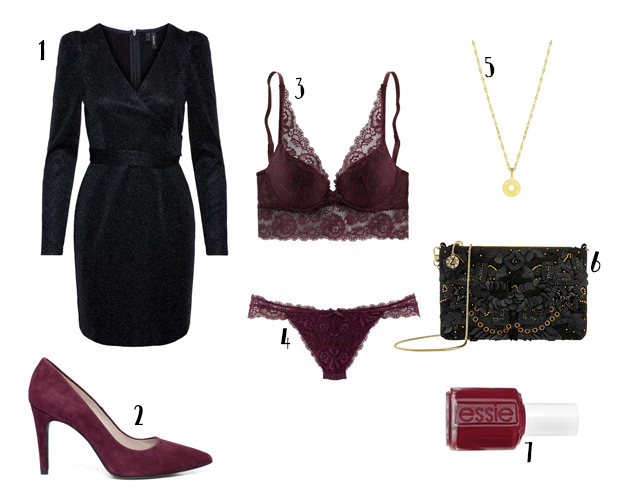 1. Vero Moda €44,99 / 2. Sacha €75,99 / 3. Lascana €35,- / 4. Lascana v.a. €19,- / 5. My Jewellery €19,95 / 6. Accessorize €66,- / 7. Essie 'Bordeaux'
Waarschijnlijk denk je al snel aan een jurkje tijdens de feestdagen maar dat hoeft uiteraard helemaal niet. Je kunt ook gaan voor een mooi pak met daaronder een body en combineer dit met mooie hoge hakken om er nog wat meer vrouwelijkheid in te gooien.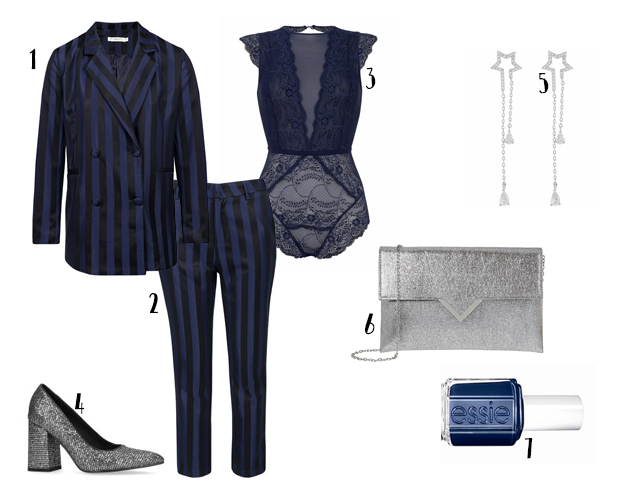 1. My Jewellery €49,95 / 2. My Jewellery €39,95 / 3. Lascana €49,99 / 4. Sacha €34,99 / 5. Accessorize €24,- / 6. Asos €28,- / 7. Essie 'After School Boy Blazer'
Ook een rokje in plaats van een jurkje vind ik altijd een goede keuze omdat het net even wat anders is. Boven het rokje koos ik voor een transparante top waaronder je een mooie bh kunt dragen. De snake print accessoires maken het setje wat mij betreft compleet…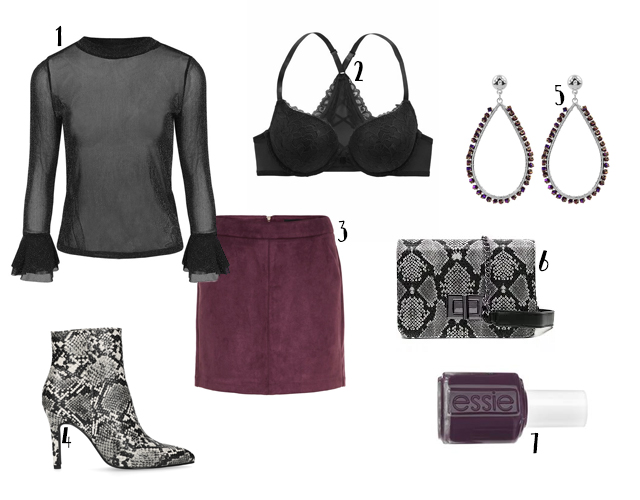 1. My Jewellery €19,95 / 2. Lascana €29,99 / 3. Vero Moda €29,99 / 4. Sacha €55,99 / 5. My Jewellery €19,95 / 6. Come Get Fashion €29,99 / 7. Essie 'Sole Mate'
Ten slotte leek het mij nog handig om wat tips te delen over lingerie en dan vooral bh's, want waar moet je precies opletten bij het kopen van ondergoed?
Bh maten kunnen altijd verschillend zijn per winkel/merk, hou hier dus altijd rekening mee en bestel dus niet klakkeloos de maat die je altijd hebt maar meet altijd eventjes opnieuw.
Een bh kun je beter niet kopen rond je menstruatie, je borsten zijn in deze periode vaak net iets voller en hierdoor heb je de kans dat je een te grote maat koopt.
Ga je een bh passen, trek dan ook altijd even bovenkleding hierover aan zodat je kan zien of alles ook onder je kleding er mooi uitziet.
Heel veel merken/winkels verkopen veel verschillende soorten bh's. Zo heb je bh's met en zonder beugels maar ook bh's met een flinke push-up of met licht gevoerde cups. Kijk in ieder geval goed welke bh bij jouw borsten past want dit kan per vrouw verschillend zijn. Daarnaast is comfort ook heel belangrijk. Een vrouw met wat vollere borsten zal het waarschijnlijk fijn vinden om een beugel bh te dragen omdat dit goede ondersteuning biedt en een vrouw met een wat kleinere boezem heeft misschien wat minder ondersteuning nodig maar wil misschien wel gevoerde cups hebben.
Ben je van plan om shapewear te gaan dragen omdat je bijvoorbeeld je lichaam wat meer wilt "shapen" dan zijn dit tips waar je misschien rekening mee kunt houden.
Je hebt natuurlijk allerlei verschillende soorten shapewear en LASCANA heeft een ruim aanbod van o.a. corrigerende onderbroeken, hemdjes om een buikje te maskeren en meer taille te creëren of bijvoorbeeld een onderjurkje om je gehele lichaam wat meer "vorm" te geven. Bedenk voor je shapewear koopt welke deel van je lichaam je iets meer wilt shapen en ga dan op zoek naar het juiste shapewear.
Om shapewear te laten werken moet het uiteraard redelijk strak zitten, maar het hoeft niet oncomfortabel te zijn. Mocht je shapewear trouwens té strak zitten, dan kan het ook juist zorgen voor een extra rolletje of dat het bij je benen gaan knellen en dat is niet wat je wilt natuurlijk. Dus koop vooral shapewear in je eigen maat en ga niet voor een maatje kleiner omdat je denkt dat je dan extra slank lijkt.
Kies de juiste maat en om dit te bepalen is het belangrijk dat je de shapewear even een tijdje draagt om het uit te proberen. Beweeg even, trek het onder je kleding aan zodat je kunt kijken of het het gewenste effect heeft en bepaal of het enigszins comfortabel zit.
Kies voor shapewear met zo min mogelijk (of geen) naden en zorg ervoor dat het aansluit op je huid voor een zo'n natuurlijk mogelijk effect.
Let ook op het materiaal, in de zomer wil je het liefste gaan voor shapewear gemaakt van katoen omdat dit een stof is wat goed ademt. In de winter is dit natuurlijk ook prettig maar kun je ook gerust voor een synthetische materiaal gaan omdat het dan wat minder warm is.
Ik hoop dat jullie wat aan deze tips hebben en dat je daarnaast ook wat inspiratie hebt opgedaan voor feestelijke outfits tijdens de feestdagen.