De zomer is nu officieel begonnen en als ik het nieuws mag geloven komt er zelfs een hittegolf aan, zelf ben ik daar niet direct heel enthousiast over maar genoeg mensen natuurlijk wel! Het wordt de komende dagen dus heel zomers weer en je lange broek en trui kunnen zeker verruilt worden voor een luchtige outfit. De afgelopen maanden heb ik wat nieuwe zomerkleding aangeschaft maar ik heb ook nog heel veel leuke items in de kast hangen van vorig jaar. Wanneer het warm is draag ik het liefst zwierige maxi jurken, comfortabele shorts en hemdjes en kies ik vooral kleding wat gemaakt is van luchtige stoffen zoals katoen en linnen. Voor de zomermaanden vind ik vooral een boho stijl erg leuk om te dragen en gelukkig is dit ook volop in de winkels verkrijgbaar, lucky me! Zoals jullie inmiddels weten vind ik het erg leuk om outfits samen te stellen, dit was overigens ook alweer een tijdje geleden, dus hieronder 3 x leuke setjes voor de zomer en hopelijk zorgt het voor wat inspiratie…
Het eerste zomerse setje is best wel casual door de gympen maar toch ook wel netjes door de haarband en het tasje, het is een beetje een mix van stijlen en ik hou ervan! Ik vind de midirok van OTTO super leuk door de lengte, kleur en printje en een rok zoals deze laat zich makkelijk combineren. Onder deze rok kun je natuurlijk kiezen voor mooie sandaaltjes met of zonder hak, maar ik koos er juist voor om de rok te combineren met simpele witte gympen voor een wat meer alledaagse look.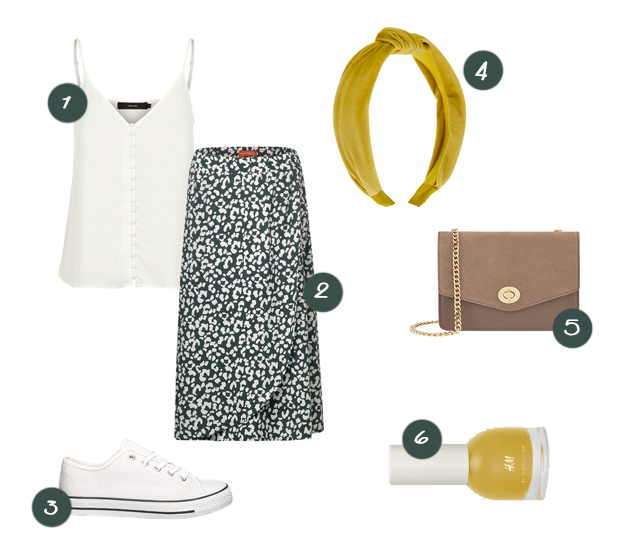 1. Vero Moda €26,99 / 2. OTTO €49,99 / 3. Bristol €9,99 / 4. Accessorize €12,- / 5. Accessorize €46,- / 6. H&M €4,99
Een jurkje doet het uiteraard altijd goed in de zomer en kun je ook op vele manieren combineren en is lekker luchtig. Dit jurkje is van VILA en heeft een heel leuk model door de knoopjes en strikceintuur waardoor je wat meer taille kunt creëren. Het jurkje heb ik gecombineerd met sandaaltjes maar is natuurlijk ook heel leuk met laarsjes wanneer het wat kouder is of met gympen eronder. Ik vind items van riet zoals hoedjes en tasjes heel zomers qua uiterlijk en daarom mocht een rotan tasje niet ontbreken!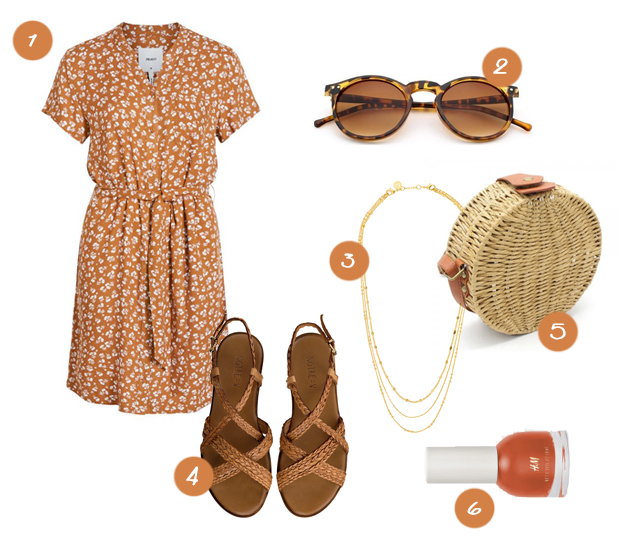 1. VILA €39,95 / 2. Partyzonnebrillen €12,95 / 3. Accessorize €20,- / 4. OMODA €63,95 / 5. Hip en Mooi €24,95 / 6. H&M €4,99
Ten slotte nog een outfit met een denim short van OTTO. Net zoals bij een jeans is ook een denim short een heel tijdloos item die ook nog eens heel goed te combineren valt, eigenlijk kan hier bijna alles wel bij. Ik ging voor een setje met een klein beetje een festival vibe. Ook al zit een festival er dit jaar niet in, je kunt natuurlijk wel een outfit dragen die niet zou misstaan op een festivalterrein. Vooral het gele heuptasje maakt de outfit helemaal af!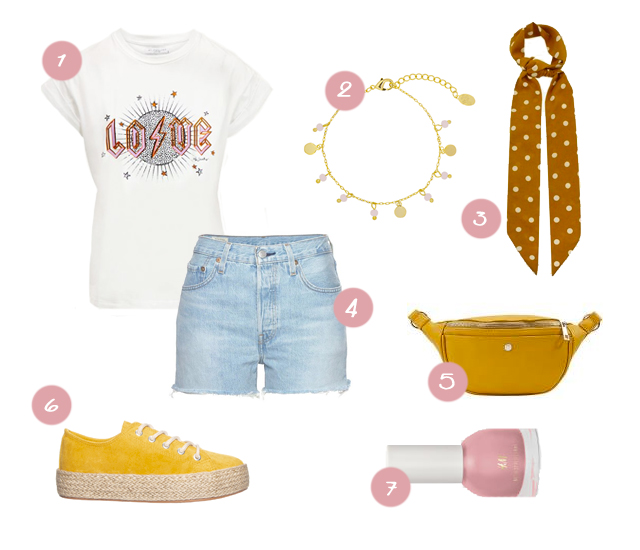 1. My Jewellery €24,95 / 2. Marissastyle €12,95 / 3. My Jewellery €5,95 / 4. OTTO €54,99 / 5. Even & Odd €16,95 / 6. Bristol €19,99 / 7. H&M €4,99
Met de outfits hierboven weet ik zeker dat jij er in de zomer super hip bij loopt. Mij favoriet is outfit nummer 2, die past het beste bij mijn stijl. Ik ben heel benieuwd welke van de 3 outfits jij de leukste vindt?