Wanneer ik er een hele dag op heb zitten met mijn twee kindertjes, ben ik vaak best moe wanneer ze allebei in bed liggen. Ik plof dan vaak heerlijk op de bank en doe niet zo veel meer, even genieten van helemaal niets. Vaak maak ik nog wel een grote kop thee en pak ik iets lekkers erbij te eten. Wat ik ook heel fijn vind om te doen is iets comfortabels aantrekken. Dus mijn kleding ruil ik in voor een fijne pyjama en mijn avond kan beginnen! En dat bracht mij direct op een leuk idee voor dit artikel, ik heb namelijk 3 x leuke setjes samengesteld inclusief accessoires die niet mogen ontbreken bij een avondje me-time. Ten slotte geef ik ook nog wat leuke tips voor een geslaagde en relaxte avond…
Het eerste setje is ideaal wanneer je net lekker in bad bent geweest. Ik koos voor een mooie kimono van LASCANA en combineerde deze met warme pantoffels. Met dit leuke setje kun je na je badsessie heerlijk op de bank ploffen met een dekentje over en een goede film of serie op.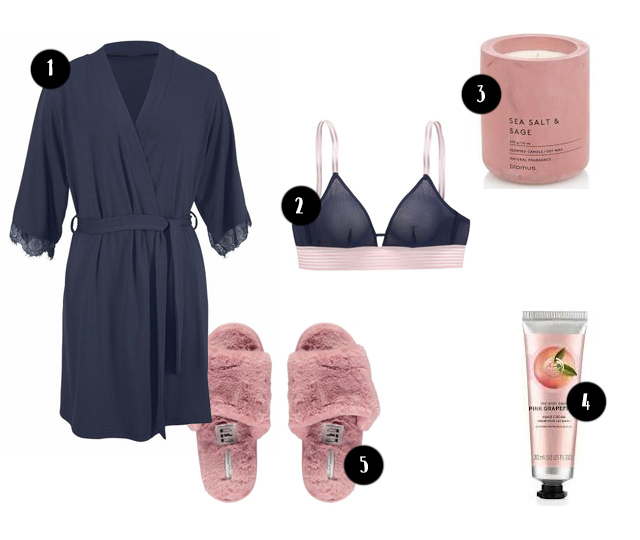 1. LASCANA €39,99 / 2. LASCANA €17,99 / 3. De Bijenkorf €20,- / 4. The Body Shop €5,95 / 5. Bol.com €12,74
Het setje hieronder is ook één en al comfy en ik zie mijzelf hier wel in chillen. Ik vind het vaak in de avond heel fijn om mijn bh in te ruilen voor een bralette of sport-bh, omdat het toch nét iets makkelijker zit. De trui die ik heb uitgekozen ziet er ook zó fijn uit, een trui waar je waarschijnlijk het liefst in wilt wonen…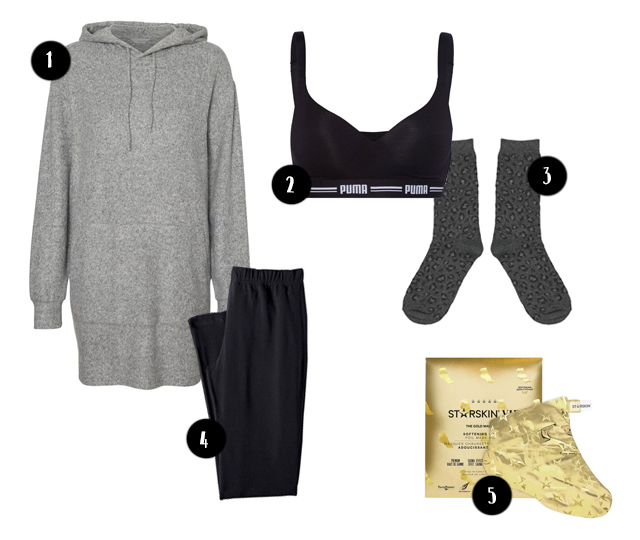 1. Vero Moda €29,99 / 2. LASCANA €26,99 / 3. Hema €3,50 / 4. LASCANA (set van 2) €24,99 / 5. StarSkin €13,65
Ten slotte nog een setje die ook ideaal is voor een avondje me-time. Ik koos voor een mooie nachthemd en heerlijk zachte pantoffels. Ook met dit setje ben je klaar om op de bank te zitten en niks meer te doen, gewoon even genieten!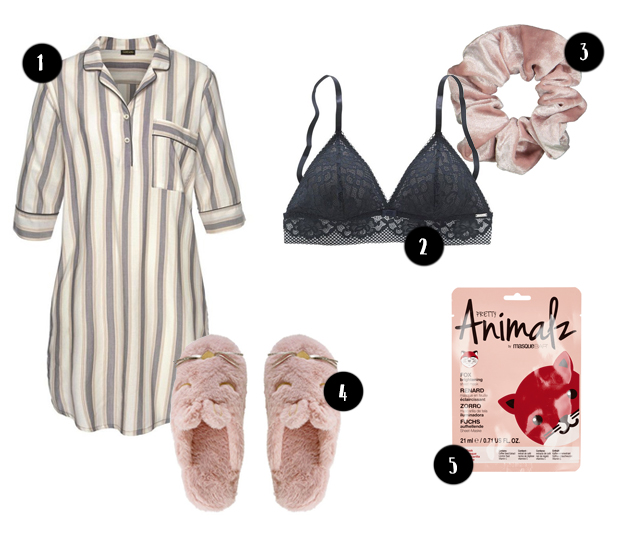 1. LASCANA €29,99 / 2. LASCANA €24,99 / 3. Hema €3,- / 4. OTTO €19,99 / 5. Etos €3,49
Ter afsluiting van dit artikel heb ik nog wat leuke tips voor een hele relaxte avond waar we soms allemaal wel behoefte aan hebben:
Zet allereerst je telefoon uit zodat je niet wordt gestoord tijdens je avondje ontspannen. Dus even geen prikkels van buitenaf maar gewoon puur tijd voor jezelf.
Wanneer je weet dat je een avond voor jezelf hebt, haal dan vooral wat lekkere hapjes in huis. Dingen die je lekker vindt. Dit hoeft natuurlijk helemaal niet ongezond te zijn, je kunt ook een heerlijke fruitsalade maken met bijvoorbeeld nootjes. Van lekker eten word ik in ieder geval altijd wel heel erg blij!
Soms begin ik mijn avond met een heerlijke bad. Ik laat dan een bad vollopen met lekkere badschuim en neem echt even een momentje voor mezelf. Soms inclusief maskertje, brandende geurkaars en ontspannende muziek. Op zo'n moment ben ik even helemaal lekker in mijn eigen bubbel en kom ik helemaal tot rust. Ook een heel goed begin voor de rest van de avond.
Tegenwoordig doe ik dit niet zo heel vaak meer maar ik vond het altijd heel fijn om yoga te doen. Ik trok dan mijn sportbroek en topje aan en met een matje in de slaapkamer deed ik dan allerlei oefeningen met behulp van Youtube filmpjes. Wanneer je zoekt op 'yoga tutorial', 'beginner yoga', 'relaxing yoga' etc. vind je onwijs veel filmpjes en kun je direct aan de slag.
Een relaxte avond is voor mij toch vaak wel leuke en interessante series of docu's kijken, dit doe ik vooral op Netflix. Series en docu's die ik de laatste tijd heb gekeken zijn o.a. Good Girls, I am a Killer, Cheer (aanrader!), You Seizoen 2 en Dirty John.
Heb jij wel eens een avondje helemaal voor jezelf en wat doe jij dan?