Op mijn blog besteed ik veel aandacht aan kleding en accessoires en wat minder aan lingerie. Terwijl lingerie ook best wel belangrijk is, zo kan een mooi setje onder je outfit je zelfverzekerder laten voelen en kan het bepaalde kleding mooier er uit laten zien. Draag je bijvoorbeeld een strak jurkje dan is het een goed idee om hier naadloos ondergoed of eventueel shapewear onder te dragen. In dit artikel wil ik een keertje wat meer aandacht besteden aan dit onderwerp en je wat goede tips meegeven waar je op moet letten bij het kopen van lingerie..
De juiste maat
Heel veel vrouwen lopen met een verkeerde bh maat rond, het is daarom een heel goed idee om je borsten eens op te laten meten in een lingerie speciaalzaak. Ook kun je online meetinstructies vinden zodat je het zelf kan doen, mocht je dit prettiger vinden. Doe dit ook om de zoveel jaar. Het schijnt namelijk zo dat borsten je hele leven veranderen, dit heeft o.a. te maken met invloed van hormonen, het krijgen van kinderen, afvallen of aankomen, ouder worden etc. Een juiste maat kiezen geldt eigenlijk ook voor je onderbroek. Draag je bijvoorbeeld een te kleine hipster dan kan dit gaan snijden, wat je weer door je kleding heen ziet en dit zit natuurlijk ook niet comfortabel.
Kies voor de juiste ondergoed
Soms wil je misschien dat je lingerie wel een beetje zichtbaar is. Het is bijvoorbeeld erg mooi om een bralette te dragen onder een top of jurkje die wat laag uitgesneden is. Maar soms wil je ook dat je lingerie niet zichtbaar is, bijvoorbeeld wanneer je een nauwaansluitend jurkje draagt. Kies dan voor ondergoed zonder naden en kies de juiste kleur. Wist je trouwens dat rode lingerie heel geschikt is om onder wit te dragen? Ook zou je eens kunnen kijken bij bruidslingerie, hier vind je vaak een heel groot aanbod met mooie lingerie die vaak goed aansluit en onzichtbaar is.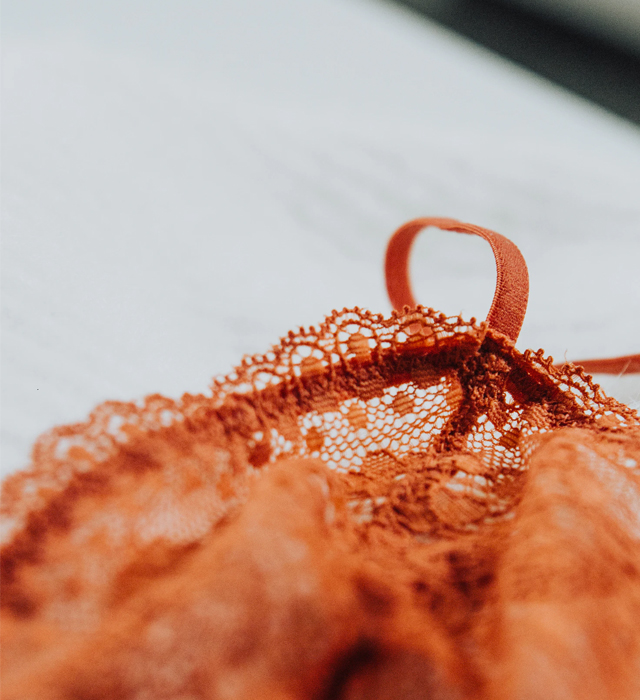 Kijk welke bh soort past bij jouw borsten
Niet alleen het kiezen van de juiste maat is belangrijk bij het kopen van een bh, ook moet je letten op de soort bh. Want niet elke soort bh past bij jouw borsten. Je hebt allerlei verschillende soorten zoals bh's met beugels, push-up, padded, non-padded, bralette etc. Heb je bijvoorbeeld kleine borsten en wil je deze wat groter laten lijken dan is een bh die 'padded' is een geschikte keuze, terwijl voor iemand met grote borsten dit niet per se is. Ook zijn alle borsten verschillend en de ene bh heeft bijvoorbeeld brede cups wat heel geschikt is voor iemand met een brede buste. Het is in ieder geval een goed idee wanneer je gaat shoppen voor een bh dat je allerlei verschillende bh's uit de rekken pakt om erachter te komen welke soort het beste bij jouw past. En vergeet dan ook vooral niet om je kleding er even overheen te dragen, dit geeft vaak nóg een betere indruk.
Let op de materiaal
Ten slotte vind ik het ook altijd wel belangrijk om te kijken naar de materiaal waar de lingerie van gemaakt is. Ik hou persoonlijk van natuurlijke materialen zoals katoen en bamboe. Vooral in de zomer is het dragen van synthetisch ondergoed niet heel fijn. Het is prettig wanneer je een materiaal kiest die nog ademt, zoals bijvoorbeeld katoen en bamboe. Daarnaast is synthetische ondergoed ook niet heel goed voor je natuurlijke flora down under en kun je dus ook beter kiezen voor een natuurlijke materiaal, of in ieder geval een mix.
Dit waren mijn tips voor het kopen van lingerie. Mocht jij nog een handige tip weten, let me know!