Het hebben van kinderen is voor mij het mooiste wat mij is overkomen en ik had het voor geen goud willen missen. De liefde die ik voel voor mijn twee kindjes is niet te beschrijven. Ik vind het ontzettend mooi om moeder te zijn en je kinderen te zien ontwikkelen, van hulpeloze baby's tot aan "zelfstandige" peuter en kleuter. Maar er zijn ook een aantal zaken die ik wat minder vind en dat zijn ook ongetwijfeld de dingen die jij als ook ouder herkent. Ik ben bijvoorbeeld erg netjes en schoon maar met een huishouden met jonge kinderen heb je gegarandeerd rommel in huis en dat is iets waar ik nog steeds aan moet wennen. Hieronder heb ik 10 dingen die jij als ouder ongetwijfeld herkent…
Meerdere malen per dag stofzuigen
De stofzuiger staat bij ons thuis maar weinig in de kast waar die hoort te staan, vaak staat die gewoon in de woonkamer. Ik gebruik de stofzuiger namelijk meerdere malen per dag en ik vind het niet handig om dan steeds de stofzuiger uit de kast te moeten halen. Na bijna elke maaltijd gaat de stofzuiger even grondig onder de eetkamertafel door en wanneer het dan weer netjes is willen ze vaak kleien, hierna kan ik dus weer opnieuw beginnen…
Stiekem een koekje eten
Ik vind het belangrijk dat mijn kindjes voornamelijk gezond te eten krijgen. Maar natuurlijk krijgen ze ook wel eens een koekje, een bakje chips en uiteraard wordt er ook wel eens pizza of frites gegeten. In grote lijnen wordt er in ieder geval gezond gegeten. Soms heb ik overdag ineens super veel zin in een lekker koekje met chocolade of iets anders ongezonds. Maar kinderen zien alles dus vaak pak ik dan stiekem iets lekkers en eet ik dit op in de bijkeuken of badkamer. Zo kan ik even ongezien genieten van iets lekkers te eten…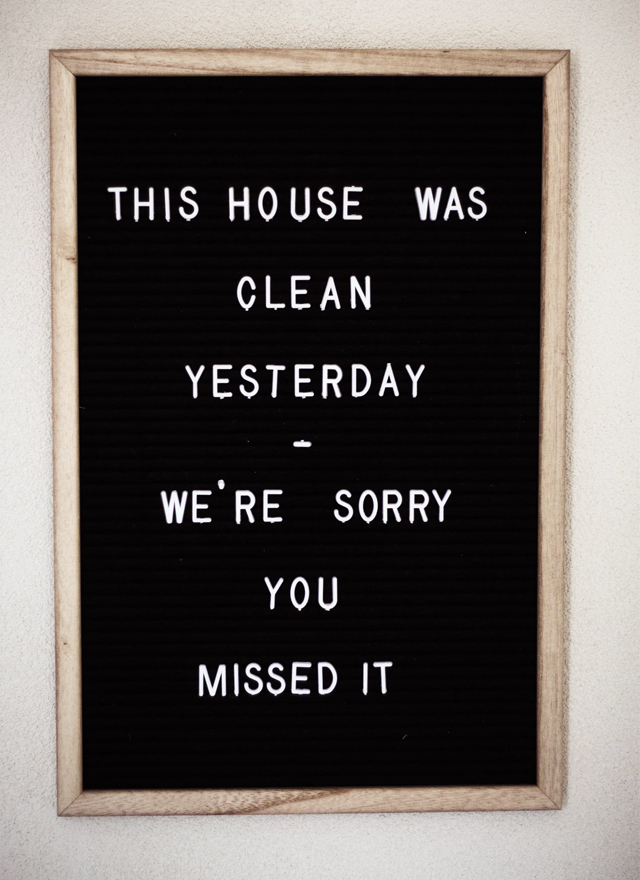 Nooit meer iets voor jezelf kopen
Online shoppen doe ik graag maar sinds de komst van mijn kinderen doe ik dit niet meer zo vaak voor mijzelf. Ik vind het namelijk veel leuker om kleding, kinderkamer accessoires en speelgoed te kopen. Natuurlijk koop ik nog wel eens iets voor mijzelf maar het grootste gedeelte van mijn geld gaat toch op aan mijn kindjes.
Rustig naar de wc is verleden tijd
Nooit maar dan ook echt nooit kan ik even rustig naar het toilet. Of ze hebben mij heel toevallig nodig of ze komen echt achter mij aan en willen mee naar de wc, ik doe dus altijd de deur op slot. Mijn man heeft hier overigens helemaal geen last van, tja…
Oneindig veel was
Sinds de komst van onze kinderen is de was ongeveer verviervoudigd. Iedere dag zit de wasmand tot aan de nok gevuld en blijf ik wassen. Het lijkt wel alsof er gewoon geen einde aan komt. Gelukkig hebben we uiteraard een wasmachine maar ik vind vooral het ophangen, opvouwen en opruimen een vervelend klusje. Tegenwoordig was ik wel iets minder omdat ik nu niet meer iedere kledingstuk met een klein vlekje direct de wasmand in doe.
Uitslapen is verleden tijd
Voorheen hadden wij super veel mazzel, allebei de kindjes sliepen zo tot een uurtje of half 8/ 8 uur. Prima tijd om wakker te worden. Tegenwoordig is dat helaas wel een beetje anders. Vaak staan ze om 6 uur of half 7 naast ons bed en ze zijn ook direct 'aan'. Soms kijken ze nog even een filmpje bij ons in bed zodat we nog een klein beetje bij kunnen komen.
Overal zand in huis
Nu het weer zomer aan het worden is, zijn de kindjes natuurlijk weer lekker veel buiten aan het spelen. En dat is super fijn voor ze en ik vind het heerlijk als ze buiten lekker aan het ravotten zijn. Ze hoeven absoluut niet schoon te blijven, dat is iets waar ik mij helemaal niet druk om maak. Maar waar ik mij wel druk om maak is het zand door het hele huis. Gelukkig stofzuig ik vaak, vanwege de vele kruimels, maar het lijkt we alsof er altijd zand overal ligt.
Niet rustig kunnen make-uppen
Wanneer ik mijn make-up doe, dan doe ik dit meestal alleen op de slaapkamer of in de badkamer. Soms komt het zo uit dat ik mijn make-up doe in de woonkamer maar daar krijg ik altijd direct spijt van. Mijn make-upjes werken als een magneet op mijn kinderen, ze vinden het prachtig om overal aan te zitten. Elke flesje, potje en kwast wordt uitgebreid getest met alle gevolgen van dien.
Ik ben heel benieuwd of jij de bovenstaande dingen als ouder herkent? Heb jij nog een toevoeging?